Public Transportation in Tijuana
Posted by Gary Coles - Paradise For Gringos on April 10, 2017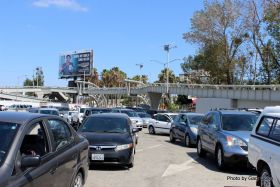 Many expats do not like to drive in Mexico, so I constantly answer questions about public transportation.
Tijuana has more expats than anywhere else in Mexico and it is a big city, so understandably, many people wonder about the buses and taxis.
The public transportation in Tijuana is very good and is inexpensive. I am familiar with public transportation in the United States, Europe, and Africa. The quality and prices are better in Tijuana than most places I have seen. Standard cabs or taxis cost a fraction of the price in the US and Canada. I usually take my son to school in the morning. It is approximately 2 miles and costs us 10 pesos (about US 50 cents) each. Trips clear across the city are also also reasonable. Another option, is a larger taxi which is van size. It costs 15 to 18 pesos (75 cents to 90 cents) to travel any distance including across Tijuana or even to Rosarito. Standard size buses cost 13 pesos. There is a new rapid transit system which costs 14 pesos (70 cents). The system uses big modern Swedish buses and currently completes a loop of approximately 44 stops.
You will always hear people talk about old school buses buses from the US with dirty and broken seats. There are still a few but most all of the taxis, vans, and buses are very clean and the majority of them are quite new. I use public transportation most days to many different locations.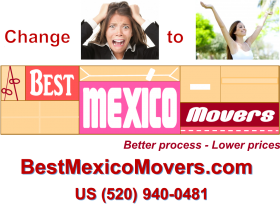 People who claim the buses and taxis are old and dirty are completely wrong or just out of date. Most of them are so brainwashed by the automobile culture of the US and Canada and don't even give public transportation a chance. They also often have unrealistic expectations.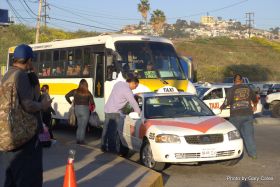 When you walk across the border you find this very busy taxi and bus stand. A taxi for downtown is 50 pesos (US $2.50) and the bus is 10 pesos (50 cents).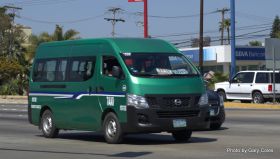 These nice and clean taxis follow set routes and usually are a little faster than larger buses.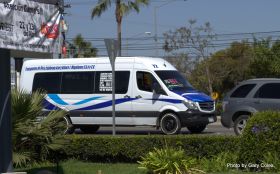 Smaller buses like these are common throughout the city. When I take my son to school, I may catch one of these instead of a taxi. I pay 13 pesos (65 cents) and he pays 7 pesos (35 cents; school discount). Senior citizens also receive discounts.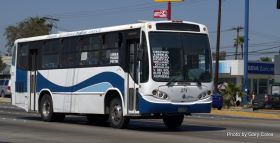 The old school buses have basically been replaced by modern buses.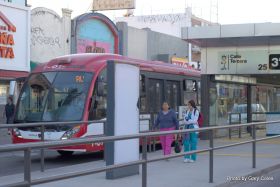 The 3rd street station on Avenida Revolución of the new public transportation system.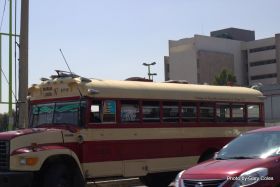 You can still find some of the recycled school buses on some routes — however most of them are the private system buses used to shuttle workers to their jobs.
---