A Perfect Day in Paradise
Posted by Gary Coles - Paradise For Gringos on November 15, 2016

A Perfect Day in Paradise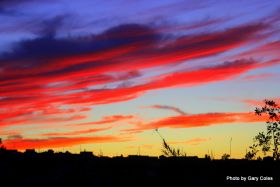 The sun is barely peeking over the horizon as I grab a cup of coffee and step into my yard. There are a few clouds and as the sun catches them they light up and create a spectacular sunrise to start the day. As I sip my coffee, I enjoy a multitude of vibrant and colorful flowers and lush foliage.
The air is sweet and clean (not much pollution here). I love the fragrance from the flowers and some days I can smell the sharp tang coming from the sea. I just relax and enjoy it all. A rooster crows in the distance and soon I hear cheerful melodies as birds begin to sing.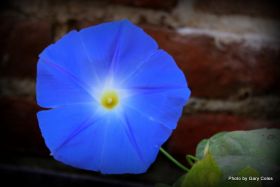 Most mornings I take a quick walk to the neighborhood tortillaria for a. Kilo of fresh tortillas (about 60 cents for 2.4 pounds). They smell delicious and they are still hot ---- almost too hot to hold.
I may even stop for some cheese or chorizo at one of the manly tiny local stores. I've counted 14 within 4 blocks of home. As I walk, I notice the neat yards and the flowers and foliage. I see lots of butterflies and hummingbirds – they love the flowers, too.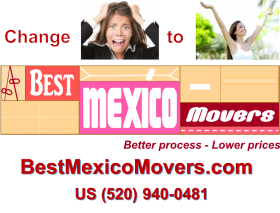 I usually see neighbors and exchange greetings or visit for awhile. Everyone is very friendly and it never takes much time to make new friends.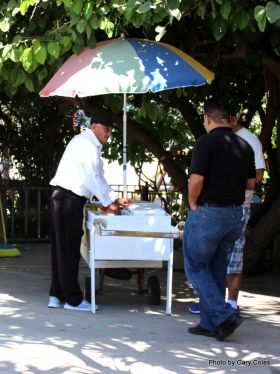 If I stay home during the day, it is interesting to watch the life and interactions that are happening. Mondays, the garbage truck comes by and you can hear the horn alerting you and with the hope, you will have a tip along with the trash.
Every day you will have a number of cars and trucks driving through the neighborhood selling many items including tortillas, water, propane, household goods, and more. They all have loudspeakers and play their own unique melodies and messages.
There are also individuals who have little carts or trays with donuts or candies or ice cream. I especially like the ice cream truck that plays the same recording all year long – half the tunes are Christmas songs and they are really amusing to hear in Paradise in the summer.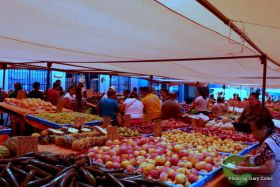 Tuesdays and Fridays, our neighborhood has a street-market and vendors seem to be selling everything you can imagine. It is a great place to get fresh fruits and vegetables at great prices. It is a treat just to wander up and down the street just watching the people and seeing everything for sale.
Some days we get a special treat when one of the groups of three or four musicians wander through the neighborhood.
And sometimes it is nice to just relax with a siesta in the afternoon. In the late afternoon, there are more people strolling in the street and congregating in front of homes. The whole community has an open and friendly atmosphere.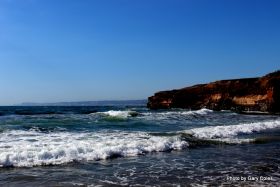 Of course, there are many other options available. I can spend the day at the beach or I can go and wander through some of the picturesque neighborhoods or I can sit in the park and maybe I will get to see kids enjoying a piñata at a party with all the candies they can scoop up when it finally breaks. I may grab a taco or some other great food from one of the little stands that you can find everywhere.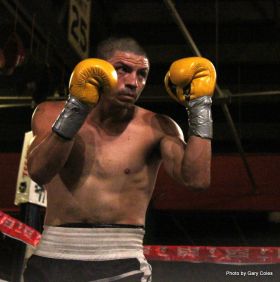 Other treats are going to a museum, a concert, boxing, lucha libre (wrestling), a bull-fight, an open air concert, an art gallery or much, much more.
Every day here in paradise has a wealth of stimulating things to enjoy. My only regret in Paradise is that I did not move here many years earlier.
---