The Quaint, Exotic and Tranquil Beauty of Park Eden in El Valle de Anton, Panama
Posted by Jet Metier - Best Places in the World to Retire on December 26, 2012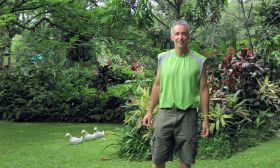 It was the extra toilet paper holder, a lace and chintz contraption hanging on the wall, that made us laugh. The room in which we stayed was called Limonera, named for the lime tree in its private terrace, which was a separate studio around the back of the main house of Park Eden in El Valle de Anton, Panama. If I were a detective, I would say it was originally the residence of someone who loved to read, for there were many books along the wall, and who loved Panama for the memorabilia that was collected.
Since then, the lady of the house, eager for the well-being of her guests, had laid out a carafe of water and glasses, a wine opener and stemware, and placed a coat rack and full length mirror beneath the giant TV and whirling ceiling fan, hoping we would feel expected and welcomed.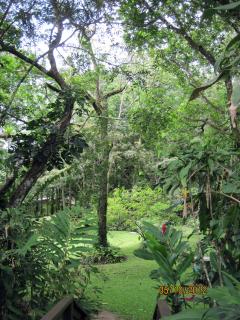 In the morning, breakfast was served on white iron tables under a striped awning, in which we could see the birds flint through the branches and hear their songs from which there was no competition from the silence. Our days were filled wandering the streets chuckling at the loose chickens and charmed with the pretty architecture of the vicinity.
I still think about this the bed and breakfast: the signs from the main road that lead you through its gracious neighborhood, the gate partially open to reveal a compound perfect for family reunions, the craggy profile of the caldera to be your landmark, the bumpy road and the large lot against the mountainside. It is all green wonder and landscape whimsy, swings on trees and playful garden artifacts. There is a main house, comfortable and casual looking, and auxiliary buildings for which perhaps a canton in Switzerland was imagined, their balconies, tile roofs and gingerbread fretwork, situated to be examined leisurely across an expanse of lawn.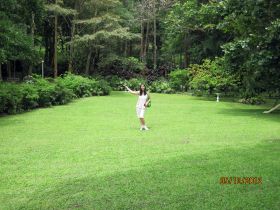 Park Eden is a name that fits. It opens itself up for exploration, through its grassy grounds that dip and rise, the sun peeking through the stands of giant trees festooned with hanging plants, the bridge across a little stream, and with the freshness of the morning you are moved to wander about, even into to the night you want to be outside, when strange creatures are seen under the moon, to approach all its little charming vistas with pleasure, and to sit at the benches scattered at different elevations around the property, positioned to contemplate the flowers at your feet and the ones entwined around each other, the broadness of leaves and the tranquility of the moment.