An Oasis of Coolness in El Valle de Anton, Panama
Posted by Linda Jensen on March 24, 2014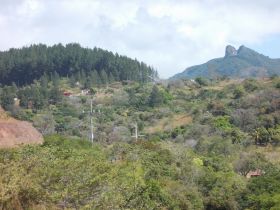 Such beauty and wonder everywhere!
Just a short drive from the traffic and hectic city life of Panama City is the beautiful oasis called El Valle de Anton. This charming and picturesque community is a growing retirement community for many ex-pats and Panamanians as well.
A paved road winds its way off the Pan-American Highway towards the mountains. One can feel the air grow cooler as the road climes ever higher. Winding through the majestic countryside you marvel at the beauty around every curve. After a long winding trip up, at last you descend into the valley below.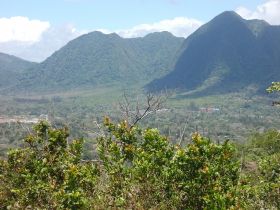 A small village that offers several hotels, hostels, and Bed & Breakfast accommodations greets you. There is a lively very small downtown area. A very nice farmers' market where you can get beautiful produce, lovely plants and flowers, or purchase local Indian arts and crafts. There are several small cafes about town. Pubs and shopping, insurance and business services, a fairly new, very nice Romero grocery store is located in the new plaza near downtown.
Driving past downtown you will follow the pavement around to a small park where there is a seasonal hot springs to visit. Beautiful estates, horse farms, and many new homes under construction make this community desirable. The cost of living is comparable to Boquete. The nearest city is Coronado (about 45 minutes away), which has much more shopping, medical facilities and dining out and entertainment opportunities for everyone.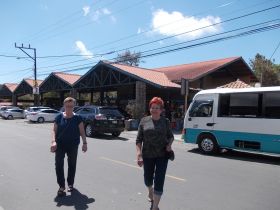 El Valle de Anton is located in an extinct volcano crater. The majestic mountains rise high above and the weather is cooler than the Coronado area and especially more so than Panama City.
You must visit this lovely community and spend some time there before you leave Panama!
Pictured to the right are Bente Larsena and Linda Jensen in El Valle de Anton.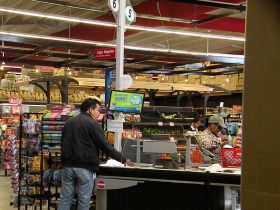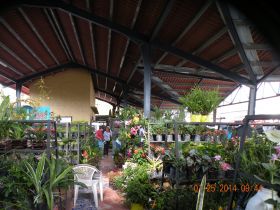 Farmer's Market Romero's Grocery Store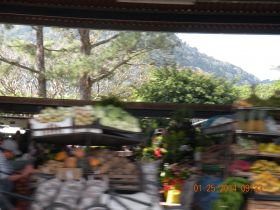 Farmers' Market