Park Eden In El Valle de Anton Panama Is Aptly Named
Posted by Jet Metier - Best Places in the World to Retire on December 24, 2012

For the final stretch, we followed the blue signs to Park Eden from the main road. The way was unpaved and bumpy, with rocks smoothed over by frequent travel, slowing us to peer into the gates and gardens of well-kept El Valle de Anton homes and jostling us so we were forced to look up at the handsome ridges of the caldera that were thick with riotous jungle. If I were a Victorian British memsahib arriving to the cooler regions of the hill stations, the grounds of Park Eden is what I would want; an open grassy lawn rolling with stately trees with exotic flowers bedding at their roots and entwined along their trunks and branches like ornamental jewelry.
There were two story buildings charming with stone facades, arched wood framed windows and balconies and porches with gingerbread rails. In the main house, we filled out forms in an enclosed porch, from which we could see a kitch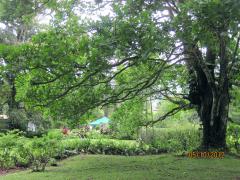 en and a living room, rumpled with familiar use. The grounds keeper spoke little English, and we made a hash out of our Spanish. I tried to explain to him that I brought spices for the lady of the house, who I read was from Ecuador: turmeric, achiote, cumin, ginger and light black peppercorns, were my gifts, as we were staying in her family home and as a guest, albeit a paying one, I could not think of arriving empty-handed. But since she was not there and he was our greeter and our guide, they would be for him. I also gave him a bag of dried fruit, nuts, cookies and candies, "Por sus ninos." But they were grown, he said, and far away.
Our room in the back was like a quirky studio; a bed for intimate snuggling, a smaller bed with a bolster from which to peer up to watch an English-speaking television show, as the lamp oil burnt and the fan turned in the ceiling with the air of the private patio made cooler by the lime tree for which the room was named.
The walls were stacked with books belonging to someone who had an agreeable time in college and never left the reading habit; pictures, knickknacks of local travel, a huge closet with a hat rack, a free standing mirror, a carafe of water and glasses, the implements to enjoy a bottle of wine en suite, and a small bathroom with louvered doors and extra toilet paper coyly held with Victorian frills.
We walked the surrounding El Valle de Anton neighborhood, our greatest joy to see each house individual, sometimes grand with European longings, sometimes with chickens that recognized no boundaries, driveways which we expected the scions to drive up in their playboy cars, landscapes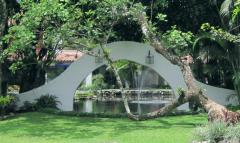 for weekend delight and plants haughty with color, plots still untaken and untamed.
In town at dinner, at the restaurant La Brochette's patio we saw little girl after little girl with their arms around their fathers' shoulders, somehow standing balanced on the top tube of bicycles, and in their hands balloons fluttering in the dusky night sharing the road with short distance buses and a constant stream of solemn pedestrians . I followed a particularly sweet and skinny dog that paced a length of the road where the bus let out, silently asking the school kids for snacks, which they never gave. But I did; a small sampler of mixed meat parilla from our meal, set down on a napkin before him and the church. Oh, how the stray dogs of Panama broke my heart.
When we returned to Park Eden, the auxiliary two story buildings had no light, and as we walked over the little arched bridge over the stream, there was only the soft music of tripping water and haunting night bird calls. There was no one except us to share the benches in the moonlight, or the deeper darkness nearer the hill, or the swings from the huge branches except the garden gnomes and a huge rat like creature digging in the lawn, the size of a mature opossum, from which we maintained our distance.
The next morning, white iron filigree tables were set for breakfast, and we ate well under the canopy in the side yard; eggs, bacon, orange juice and coffee, and a delicious jam of passion fruit. This we combined with conversation with an American ex-pat and his fetching young Columbian girlfriend, who told us they were headed for the spa.
A truck had hit an electric pole, we learned later, so there was no electricity to finalize our bill electronically. How pleasant this place would be to stay, I thought, even with the grid temporally down, to ride on bicycles to the hot springs to bathe, enclosed inside the crater with pulpy fruit from which seeds I could spit, and from the ground could spring a new life from this Eden that was shared with us. As we think about this place today, we wish it were our country home, and its plan ours.