The Manglar Lodge; Remote But Familiar, Very Chic And Done With Ease in Panama
Posted by Jet Metier - Best Places in the World to Retire on December 26, 2012

It is called the Manglar Lodge because there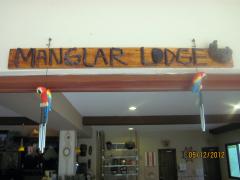 are three kinds of mangrove trees found on the property, which you see on the long wooded road to there, the road that never quite leads you to a view of the Pacific, but rather into an intimate place tucked into the nearness of fresh water and salt, land within the reach of sea, a four room structure of masculine sophistication, a boutique inn for surfers and beachcombers alike.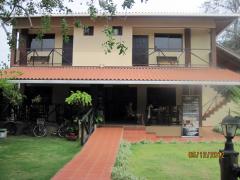 It is situated down the lane from a surf camp and behind an ocean-side hotel, where across a stream that runs from the cloudy mountains and under the Panamanian Highway, a little fishing village with children in school uniforms walk to the store for afternoon treats and the men mend their nets on their boats facing a shallow shore.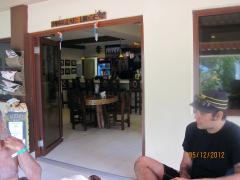 The friendly owner Ivan Marquez, surfer, entrepreneur, handyman, concierge, restaurateur, and recreational guide, is the young man who's vision this is. He furnished our room in earth tone colors, a gallery of National Geographic-like photographs, a big flat screen TV, a modern bathroom, roomy storage space, a robust air conditioner, two beds where towel swans calmly wait and a balcony with a bench to overlook the surroundings. The grounds consist of a close cropped lawn, a pavilion with tables, lounge chairs, and a crunchy gravel driveway and parking lot, that is kept reassuring lit throughout the dark night.
On the first floor is the restaurant that serves the food for big and healthy appetites in a North American mode, and a selection of romantic deserts and cocktails that can be enjoyed inside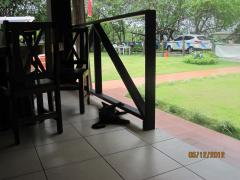 or outside on tables made of giant tree trunks with their rings exposed.
It feels remote here but familiar, very chic, but done with ease, like the moving tide that laps the beach a stone's throw away in black sand and foam.