Our Visit to a Coronado Golf Condo and The Coronado Golf Course
Posted by Linda Jensen on November 3, 2015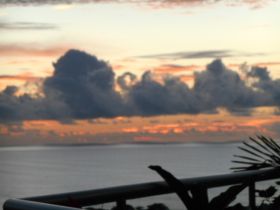 A Sunday afternoon turns from day to night quickly as dark, heavy clouds cover the sky. Lightening bolts across the dark sky and distant thunder rumbles to announce the coming storm. Lights come on like twinkling stars in homes across the valley and up and down the beach. It doesn't rain here; it is far away but welcome no matter. The fresh scent of rain comes across on the wind and cools off the balcony.
Last evening there were parties in the neighborhood. Voices and music, laughter and fireworks made the night festive. It was not as if you could hear the words; just happy voices and music.
This is Coronado, Panama. We are staying for the week in a vacation rental on the 18
th
floor of the Coronado Golf Club. The Donald Ross designed course is old (I was told it was built in the early 1930's) and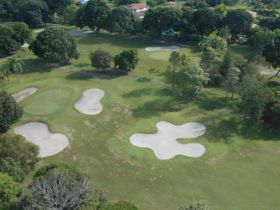 perhaps needs some TLC, but it is a fun and challenging course to play. The air is damp, heavy. Using the clubs you hit with in a dryer climate is difficult. The ball doesn't go the distance and often ends up in bunker, or over the green.
In addition to golf, there are five pools, children's playgrounds, restaurants, bars, and the beach club is a short drive on the coastline street.
The views from this condo are spectacular and panoramic from almost every room. The air cools off at night and we have only used the air conditioner twice in seven days. It is comfortable and relaxing.
Cabs can be called. The front gate is a good place to catch a bus (which is only 35 cents to town), and a taxi is a couple of dollars.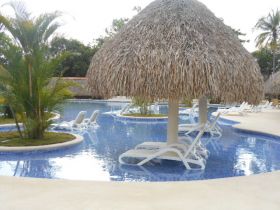 The beautiful sunrises are worth waking up to see. Pink, reds, bright oranges and cotton candy colored clouds say good morning. Soon a bright golden sun casts shimmering yellow light over the water and you grab the camera. The moon is not going to let the sun put on a show without doing its own in soft pastel colors. Glittering across the soft waves, the moonlight shimmers and signals the end of the day.
There are cafés, bars and restaurants along the incoming streets. Places to go, people to meet, things to
do; all that and more. The downside is that when it gets hot, it is muggy. Play golf early or in the late afternoon is the best advice. The streets to get to this property are rough, potholed, and have numerous speed bumps. It is worth the bumpy ride, so do not hesitate, it is good vacation location.