Province of Chiriquí, Republic of Panamá
Posted by Lourdes Townshend on April 6, 2015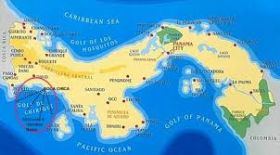 Panamá has beautiful natural resource areas, especially its outstanding beaches and mountains, which invite visitors to enjoy and relax. This is not to mention the great opportunities for exploring Panamá's rainforest, bird watching and exceptional natural reserve areas, like "Cerro Campana" (city of Panamá), Volcán (Chiriquí and Bocas delToro provinces), Coiba (a beautiful very lightly explored island), and "Barro Colorado", which is run by the Smithsonian Institute.
But there are other areas with great beauty, because Panamá is blessed to be surrounded by two oceans, one on either coast. And from Portobelo, on the Caribbean Sea, to the province of Chiriquí, on the Pacific Ocean, you can make your choice of interacting with locals or visitors, in places of relaxation and quiet.
We will talk today about the province of Chiriquí, situated in the southwest of Panamá, about 8 hours driving from the main city, Panamá, and about 1 hour by local plane from the Enrique Malek International airport, in Albrook, also in the main city. Chiriquí is particularly well known for the beautiful weather it has in some areas, and his rivers, which are very good for water rafting. But there is also a hidden paradise of beaches in Chiriquí Province, at the Golfo de Chiriquí.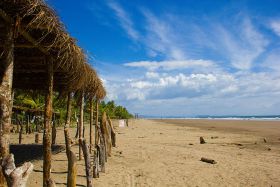 In this area is Boca Chica, between Playa Las Lajas (close to the picturesque town of Remedios, and pictured to the right), and Playa Barqueta, (close to the main town in Chiriquí Province, David). Boca Chica is growing as a tourist destination, and attracting thousands of visitors, mainly from the United States and Europe.
Boca Chica is an island with good hotels, and that offers all kinds of outdoor adventures, or visiting the famous Panamanian coffee farms. One great adventure is to visit Volcán Barú. (If you visit Volcán Barú and you are not familiar with the area, always get a local tour guide for your safety, as it is extremely big and you might get lost.) Horseback riding is very popular here, and locals are warm and friendly. This area is an excellent choice for retirement, or for a visit. Backpacking visitors will find here a great adventure. It is truly a unique experience. To visit any of these areas, most travel arrangements are made through David, which is the main city in the area.