Casco Viejo, "the Old City of Panama"
Posted by Eliecer Vera, Jr. - EQUUS VILLAGE on May 7, 2014

Casco Viejo, or "the Old City of Panama"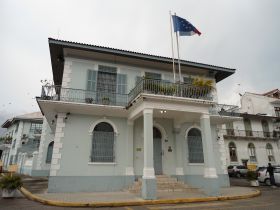 is the historic city center of Panama. It is a peaceful and charming district of narrow streets, accompanied by balconies full of the flowers of two and three-story houses. At its end is the French Park, a monument to the French builders who began construction of the Panama Canal, and the beautiful French Embassy, pictured here.
On the boulevard around the monument, visitors have a good view of Mirador Amador and the Bridge of the Americas, and to the east the horizon of skyscrapers in the city of Panama. A plaque commemorates the launch of canon shots to scare Colombian war vessels and the strengthening of the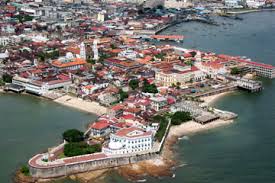 separation of Panama from Colombia in 1903.
On one side of the monument is an old Spanish structure called The Vaults, now used as a French art gallery and restaurant. Some great museums are located in the Old Town including the Canal Museum, which traces the history of Panama as the route connecting the Atlantic and the Pacific since pre-Hispanic times to modern times. Next door is the National History Museum and the old cathedral, with diamonds pearl spirals.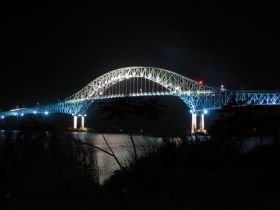 Nearby is a small museum dedicated to religious art, located in the former convent of Santo Domingo, where visitors can also see the famous Arco Chato, who allegedly helped convince engineers that Panama is earthquake-proof. In the Cathedral of San José a few blocks is the beautiful Golden Altar (pictured at the bottom), with carved wood inlaid with gold. Another beautiful building in Old Town is the Presidential Palace, which can be visited on Sundays.