An Expat Christmas In Panama
Posted by Lorna Culnane - Peace Of Mind on December 26, 2015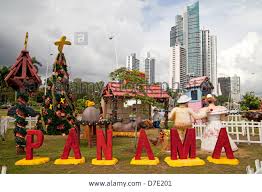 This has been our second Christmas living in Panama… and whilst I cannot deny that spending Christmas day on the beach and by a gorgeous pool in glorious sunshine is a huge plus point, for us and many people we know there is that severe lack of 'chrismassy feeling'
That is not because Christmas is not celebrated here… Christmas decorations have been up everywhere, stores have dedicated floors of Christmas paraphernalia and the shops are crammed full of people buying presents and food like most places around the world… certainly something I would not mind doing without!
It may be the lack of snow? Or freezing cold weather that negates the need for a warm glowing fire, candles and comforting Christmas food?
What we really miss, and find very hard, is not being with family… not having the kids around… the crazy shrieks first thing Christmas morning, that tells us the kids have found that Santa came and delivered during the night! Of course as the kids all got older that was going to change anyway… but then came grandkids and the fun and excitement was never lost…
It is definitely not the same, crowding around the computer screen at 7am, Skyping loved ones who are thousands of miles away and 5 hours ahead of you! It is hard not to get emotional and show how much you are missing those very same loved ones you chose to leave behind to start this new life and adventure :-( So for me, the song 'it's beginning to feel a lot like Christmas' does not seem to apply!
Add to that, aging parents or family members who may be ill or worse… and the guilt of not being with them, let alone at this special time of year, and suddenly Christmas in Panama is seriously lacking something!
If you are lucky enough to have family or friends visiting, they will be loving the vacation and of course the weather! But even my son who has visited Panama for the past 2 Christmases, is missing his traditional Christmas back home!
So what are the options? Mmm… Go to England for Christmas next year? First thoughts… Not bloomin likely! Way too cold! – Looks like I will need to start saving to bring Christmas (aka, my family) to me! :-)
Feliz Navidad!