Video Calls Work for Homesickness When Living Overseas
Posted by Linda Jensen on October 31, 2013

Seeing the grandchildren on Skype is a wonderful
way to feel in touch and close. Listening to
Livvy
sing a new song or watching Noah play with a new toy just makes our day!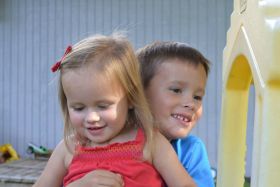 We see the smiles, the bumps, the new outfits. It is a such a delight to enjoy the time on the camera. The kids can see us too.
Skype is free on the computer or you can upgrade to various paid for services. It works well on a cell too to be able to call cheap or for free.
When you realize how much you ever saw the kids in the states it makes it much more palatable to accept that there are more miles between us, yet somehow we are as close as a video call!
I am told there are numerous other services available that provide a similar service. I am sorry I have only used Skype so far, and that is how I deal with homesickness! This is one of the best remedies ever.