The Six Sisters of Nayarit, Mexico: La Peñita, Guayabitos, Lo de Marcos, San Pancho, Sayulita and Punta Mita
Posted by Chuck Bolotin - Best Mexico Movers on September 4, 2016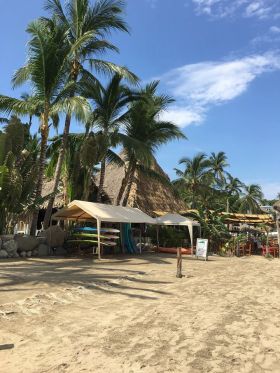 We wanted very much to visit the towns just to the north and south of
Lo de Marcos, in the state of Nayarit
. How could we not? Lo de Marcos was beautiful, exotic and interesting, the people were friendly, the food was great, and we had never been anywhere else in the area. We had only eight days in which to explore before our deadline to leave for the Central Mexican Highlands.
From side to side, Lo de Marcos is only about a half a mile wide, from where you can watch the sun set as it plunges into the Pacific Ocean on the west, to where the town effectively dead-ends into the main road to the east. This main road runs roughly parallel to the ocean and connects the areas from the north (from where we arrived, originally
disembarking from the Baja Ferry in Mazatlan
) to the south, to
Puerto Vallarta
, about an hour away by car. From that road, we could visit several little beach towns, roughly 30 miles from the one furthest north, La Peñita, to the one furthest south, Punta Mita.
One of the reasons we were so happy to explore the area is that
the main road is wonderfully beautiful
. From the sides of this road, jungle vines, palm trees and broad-leafed plants accompanied us on all our journeys, and at various times, formed a canopy overhead through which we and the other cars and trucks passed.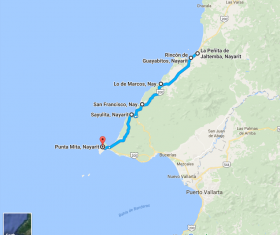 For us, this stretch of road was very relaxing, but evidently less so for the other drivers. Even though there was only one lane and a small or non-existent shoulder in each direction, we were treated to the fairly constant spectacle of cars passing us, and each other, irrespective of whether there was enough visibility to do so safely.
And it's not as if there weren't any accidents. In our short time there, we saw several of them in various stages of cleanup, as well as several shrines and crosses along the side of the road. It seemed to me as if every driver must be either a 17 year old boy or someone with severe intestinal distress racing to the next baño, which made it even more surprising when I looked into several of these cars and saw how absolutely ordinary and nonchalant the drivers were—middle aged men with their families; pleasant looking, well dressed women; older, bored looking couples; all with nary a hint on their faces of the terror that I would think a person would naturally feel at times when, within seconds, one could be involved in a fiery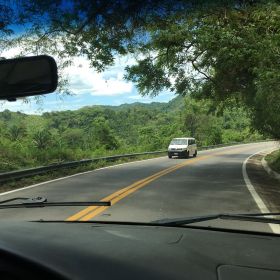 head-on collision.
Starting from our rental in Lo de Marcos, we would visit five other towns along the main road. Like six sisters who were raised in the same home with the same parents and later went out into the world to start their own families in their own homes with their own styles and personalities, each town had a similar core and common foundations.
Each started out as beautiful young women, blessed with good genes. Physically, with the exception of Punta Mita, the land that would eventually become these separate towns each had their own outcroppings dense with jungle on each their north and south sides demarking their Pacific boundaries, and each had a sandy beach in between. Later, as people arrived, they would evolve into small villages with similar but not exactly the same culture and food. As time went on, some of their distinctive inherent traits would make the differences between them just a little more pronounced, for example, as Sayulita or Punta Mita was just a bit better for surfing than the others, so they developed into surfing destinations with a bit more of a surfing personality. Also, chance would play its part, as one town became more well known on account of a particular person who liked it or publicized it, or a successful businessperson happened to choose one town over another.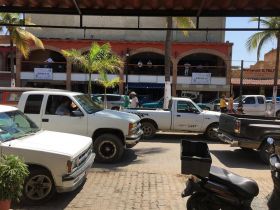 Furthest to the north, La Peñita is the town that everyone in Lo de Marcos went to when they needed something, whether it was
a part to fix our air conditioner
, or to ship a package. The La Peñita Nayarit sister was reliable and helped the others in a workmanlike manner.
Coming from the main road, La Peñita took little time to introduce itself, as almost directly off this road, a large bronze bust announced that we have arrived within its confines. As we turned in, our large white van was fairly immediately placed onto a road that resembled an elongated oval, like a racetrack, except that this racetrack had all sorts of different vehicles on it, from passenger cars, to delivery trucks, bicycles, people, tour buses, etc., and all were moving at about 4 miles per hour, or at times, stopped altogether.
The traffic was one way around the oval. In the center of the oval was a very pleasant park with benches, grass and trees.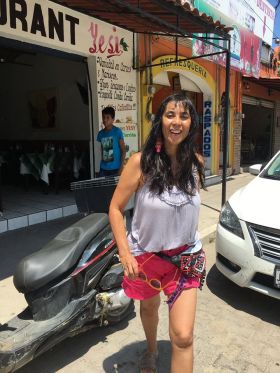 There were essentially three lanes around the oval—one on each side where you could park; and the one in the middle, in which you drove, very slowly. People were busy moving around everywhere, in every direction. The stores and restaurants were all open and doing brisk business. Many were two floors high, with balconies, from which proprietors or customers watched the commerce below. Business looked good.
Through a stroke of incredible luck, a delivery truck pulled out just ahead to the left of us and then revealed the object of our immediate desire: a parking space just big enough for our van. Not people to pass by such an obvious gift, we took it, got out, and, scanning the scene from the park median, pondered our next move.
Directly to the right, across the street, stood Restaurant Yesi, which looked nice, but not particularly unique among all the other restaurants. Given that we were hungry and had no reason to prefer one restaurant to another, we entered.
After ordering our food, I went to check out the back, where, in the open kitchen, in between joking with each other, four or five spirited and friendly women chopped and cooked. One of them was creating a juice out of a small, yellow fruit we had first seen in Baja, called nanche.
Here's the video of the women showing me how they make it
. My wife, Jet Metier, describes the experience of drinking agua de nance in the same video.
Then, ten minutes later, in that place, Jet Metier had what she told me was one of the best meals she had ever experienced. She was flabbergasted, and also quite happy. So much so, that she went back to the kitchen and asked them how they did it,
which they showed her
.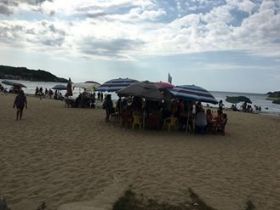 The next town to the south of La Peñita, before Lo de Marcos, is Guayabitos. Guayabitos is the Nayarit sister who married a traditional Mexican man and enjoys leisure time with her traditional Mexican family. Like La Peñita, there were few expats in Guayabitos, but unlike La Peñita, Guayabitos was geared more towards vacationing. There were lots of condos and "bungalows," which we were told were hotel rooms with kitchens. The streets were pavered, as opposed to cobblestone, and all around, there were lots of shops to buy items for the beach and lots of mid-range Mexican-style hotels. Mexican families and / or friends gathered together on the beach under large umbrellas. Guayabitos was bustling, very pleasant, and looked to us that it became exactly what it always wanted to be: a very nice, beautiful place for a relaxing vacation experience for people closest to it.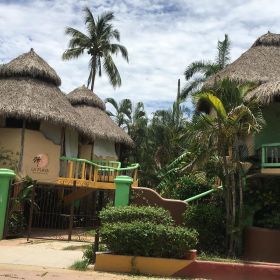 South, after Lo de Marcos, the next town is a bit of an internal contradiction, starting with its name. Some people all it "San Francisco," which is how you will see it on a map, but most everyone who knows it calls it "San Pancho," which is what the sign on the road says. San Pancho does not immediately give the impression of being high end, yet it has a polo club (yes, you read that right), and yoga and Pilates studios. This is the Nayarit sister who is a bit Bohemian.
San Pancho has a very interesting, and from what we could tell, unique architectural style. We saw several palapas on platforms, with unlikely, imaginative, rounded edges on several of the buildings and stairways. Both Jet and I liked it a lot. We didn't see many people and it was fairly quiet. (Perhaps most of them were in meditation class.) Even with all this ambiance and higher end set of services, we saw very few expats; most of the people seemed to be local Mexicans. In search of lunch, Jet and I found a park with big shade trees where the local Mexicans hung out.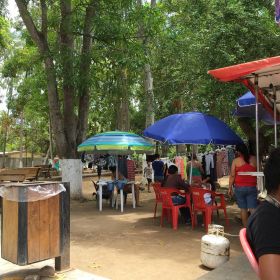 It was mid July, in the middle of the day, so it was hot. Directly next to the stand where I ordered tacos and where the proprietor added about 10 degrees to the heat by cooking, seated on a cheap plastic chair and eating her lunch, was a perfectly made up young Mexican woman, about 25 years old, in business attire, accompanied by what was probably her male business colleague in similar attire who was probably in his early thirties. Her make-up and clothes were impeccable. He, with his perfect haircut, wore long sleeves. In contrast, I looked like a complete slob, and I was probably perspiring quite a bit. Both this young woman and her lunch mate looked as fresh as if they were dining in a nice restaurant in Aspen on a spring day. As I tried, through sweaty, stinging eyes, to figure out how they could do this, Jet appeared with her lunch find, which she loved.
Sayulita, the next beach town to the south, is the youngest Nayarit sister, and the one who married an American and is raising a mixed family. Sayulita is bustling, youthful, hip, energetic, and successful. There are bars and cafes everywhere.
Upon arriving at the beach
, you are beckoned by rows of massage tables with crisp, white towels, under tasteful, blue awnings. We couldn't negotiate on any of the items in the stores or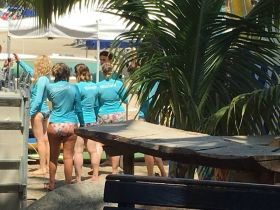 stalls because there is way too much demand for that; they just politely move you away and talk with the next customer. Packs of young people wearing shirts with the logo of a surfing school assembled on the sand for surf classes. We had lunch in a fun restaurant overlooking the beach. Like all the beaches so far, it was very pretty. Amenities were everywhere. If you needed to rinse off from the ocean, there was an outdoor shower. Care for an alcoholic drink after your surfing lesson and massage? There was a great bar on the beach, complete with a bartender and his parrot. It was daytime, but I assume that at night, there's a good amount of partying.
Punta Mita, the southernmost town we visited, was the Nayarit sister who married a tech mogul. As we arrived from the mountains, the road broadened so that it had two very well maintained lanes on each side, with an equally well-maintained, grassy, tree-lined median. Unlike La Peñita, there were no benches,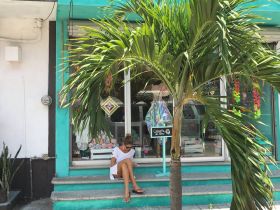 because no one was supposed to be on the median; it was for looking at only. Like many wealthy areas, in this area of Punta Mita, there were virtually no locals to be seen anywhere, but we did see a good amount of service vehicles. On this road, to the right was what we suspected to be an enormous, very upscale housing development. The reason I write that we "suspected" what it was is that we couldn't really see anything except for a tall wall.
Eventually, we got past the mystery very high-end housing development, the service entrance to the Four Seasons, and the entrance the customers take, and then, to the left, down a small hill, was a shopping area reminiscent of La Jolla. If you've never been to La Jolla, it's nice. Everything is clean, very high end, and politically correct. The place softly but confidently exudes success and privilege. There were several shops and restaurants facing the water. We visited one, walked to the back, and looked for the ocean.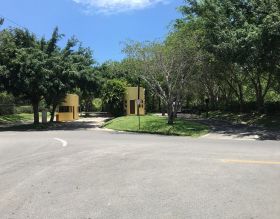 From where we were, it wasn't really that pretty. Unlike the other Nayarit sister towns, this one didn't have the outcroppings and it didn't have the sandy beach. It was actually a bit rocky. We were told that it had great surfing, but it didn't that day; it was flat. Underwhelmed but certain that Punta de Mita was quite spectacular in other areas, we decided to go to the Four Seasons to see what we assumed would be a much better beach from there. Up to the guard building we drove, extremely confident we could just say we were visiting the restaurant, and gain entrance.
We were wrong.
No one without a previous reservation would be allowed in.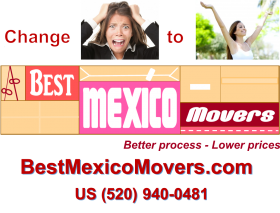 We were given very polite but firm instructions on how to turn around and go back, which we did, returning to Lo de Marcos. We'll have to visit the Four Seasons some other time; perhaps after a wealthy tech mogul invites us.
(Editor's note: Microsoft co-founder Bill Gates had recently made a substantial purchase in Punta Mita, which we were told, had changed everything.)
Our next stop would be the Central Mexican Highlands, with what we were told was the second best weather in the world.
See links to all Mexico road trip stories below. You are currently reading the one highlighted with the
yellow background.
To see hundreds of questions answered by expats
already living in Mexico, click
here
.
To see hundreds of questions answered by expats already living in Mexico, Panama, Belize, Nicaragua and Portugal, go
here
and navigate to the place you're most interested in.
Want online, interactive help finding the best place abroad for you? Try the
Location Advisor
.
To download free research studies conducted with over 1,000 expats currently living in Mexico, click
here
.