The Birth of a Classic: The First Flash Mob Line Dance In San Ignacio, Belize
Posted by Ginny Ophof on February 24, 2015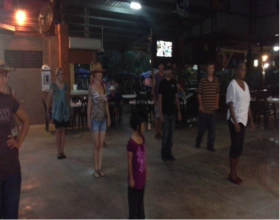 So how did this all start?
So there we were. Bored, in the jungle, and getting jungle fever. We were looking to socialize over beers, snacks, and music, all while working out and having fun. The solution (according to our teacher, who came from the UK) was obvious: line dancing.
First, we needed a venue, which turned out to be this open air restaurant / bar in the center of town called Hode's place. Perfect!!
Venue secured, we all boot scooted down, beer in hand, for our first lesson. It was a hoot! It was so much fun that it quickly became a regular must-go-to on Thursday nights.
The picture above was taken at our first lesson. I guess everybody looks pretty serious about line dancing.
Comment from a cowgirl:
"Line dancing has been perfect for my family. Some exercise and socializing time for all. We look forward to Thursday nights – the highlight of the week!"
Comment from Jungle Joe:
"I must remember the Sleazy slide starts with a Sleazy slide, not a vine!
I must remember the Sleazy slide starts with a Sleazy slide, not a vine!
I must remember the Sleazy slide starts with a Sleazy slide, not a vine!"
(He remembered. Sort of.)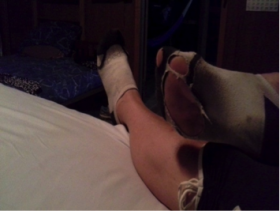 It was too hot for boots and hats, but flip flops, sandals and even bare feet were perfect for The Stomp and The Stroll and The Electric slide.
Some people even wore their socks out.
Comment from a Canadian Stomper after one of the lessons: "OMG! What a laugh we had tonight with the Sleazy Slide. You have to wiggle your butt to the count of four. I can't do it for that long! So I improvised and so did everyone else. We nearly all collapsed in a heap of laughter over this dance."
Once the class had mastered some of the dances, our fearless leader decided to do what anyone in his situation would do and take it to another level: a flash mob on Main Street, San Ignacio.
So, some serious practice was done as more and more people joined.
Our Fearless Leader: "Wow! We must have had 40+ people at line dancing last night! Even the local press came out to check out this new phenomenon! They want me to do a radio interview, but the funny thing is, while I'm not afraid to stand in front of 40 people and make an ass of myself, the prospect of one microphone scares the life 'outta me!"
To take two steps backwards and two steps forward, what started as a social event, complete with beers, nachos and boot 'scootin fun under the stars of San Ignacio, became the first ever Flash Mob in Belize!! An event that had everybody hanging on to their belt buckle!!
Here's our flash mob line dancing in San Ignacio, in the western part of Belize… the wild, wild west!!