From Bucket Baths and War Zones to the Cool, Beautiful Mountain Highlands of Nicaragua
Posted by Jewel Hoff - Tierra de los Suenos on January 29, 2016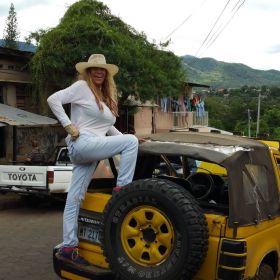 January 2014, I arrived in the early afternoon in Managua airport via United Airlines. After the huge and tedious Houston Airport, the small Nicaraguan airport was a relief. Customs stamped my passport and I paid the $10 fee.
I had reserved a so-called "resort" online for one night in Managua, as well as the Budget car rental. (I am deliberately omitting the name of this hotel for reasons that will become clear soon. I will say, however, that the name of the owner is Mike.) The "resort" was $35 a night.
The owner of the resort met me at the airport. In his late 50s or early 60's, he was a little bit tense, as he walked me to the Budget counter. Having had cut up my credit cards years ago, Budget took a $500 deposit on my debit card. What a deal it the car rental was, at $15 a day! I rented the car for the 10 day stay. A van drove me to Budget next door, which was a very short ride.
The rental car was not automatic. I was told to have every dent and / or scratch well noted or I would receive a hefty bill when the vehicle would be returned. All was well noted. Mike, in his pickup truck, waited for me close by. The plan was I would follow him to his "resort."
I had not driven a manual vehicle for about 30 years, so I practiced on some land close by. I made a few mistakes, then remembered how to drive a manual transmission, and we were on our way. Mike stated he had to make a stop. Also he asked if I wanted to go the fast way or via the scenic route. I was tired, so I choose the fast route.
Managua, with its literally "on the street" street vendors, McDonald's etc., was typical of the capital city of a poor country; it had rich, or it had poor. The pickup I was following stopped about 15 minutes later. A woman in her early 20s and carrying a small, newly groomed dog, joined Mike in his pickup.
A few minutes later, we made a left turn into what seemed like another world. No more modern buildings. No more restaurant franchises or modern shops. It seemed as if I had entered a war zone. It didn't have what you would consider "potholes," but huge crater-type holes over more than half the width of the street. Most of the streets in this area were very, very old, and had traffic lights swinging back and forth.
I stopped at a dim, red light, hoping it would not come crashing down on me and my manual-transmission vehicle. The shacks and people were dingy; the lowest on the poverty level. Starving dogs were everywhere. All this caused me to become very alert, despite how tired I was. For security reasons, I became glad my rental car was not bright and new, but dull. I was wearing my cowboy hat, hiding some of my "gringa" face
Finally after about 45 minutes, we drove up a huge hill. I was a bit uneasy. Remember, this was not an automatic car! This was a steep hill. The thought occurred to me there was no way I ever would find my way out of there by myself. (No street names are marked anywhere in Nicaragua.)
It was now about 4.30 PM. I was exhausted, as I had left Las Vegas 7 AM the day before. Finally, Mike stopped in front of a huge, tarnished, solid gate, the kind a drug lord would have. It was tight parking. I saw a motel style building with about 5 rooms on one side. I just desperately wanted to take a long shower, sleep, wake up and leave to go to my mountain destination first thing in the morning.
Mike asked me if I had ever taken a bucket shower, and then informed me I would be using pool chlorinated water. I had seen the pool, which had not been cleaned in a while. I changed the original room, as it was nasty. Mike asked me for the $35, which I then paid. He promised that he would escort me to the main Managua road through the "war zone" in the morning. I was the only guest in the hotel.
A retired couple was due to arrive 8 o'clock the morning. Before I went to sleep, I went outside to get something from my car. I had never noticed the gate surrounding the rooms. It was locked. No way to get to get to my car that I could clearly see close by. So, I took the bucket shower, and then dropped onto the bed, contemplating for a few seconds catching a plane back to USA in the morning. No, I had to see Matagalpa, in the northern Highlands in the mountains. I dropped onto the bed and slept deeply.
In the morning, Mike let me know he could not escort me back, and asked me if I wanted to walk to the volcano.... by myself! The couple with the reservations had just arrived. What happened next surprised me. I had to get out of there. I started feeling like a prisoner. I needed to be guided out of the "war zone".
I heard that the newly arrived couple was going to go up to Estelí, which was on the way for me, so I said to the man, "Oh, too bad you're leaving tomorrow. I'm driving up right now and I can give you a ride." So he said, "Well, wait a minute, let me speak to my wife," and he and his wife drove with me, escorting me out. That's how I got out of there.
We drove up there to Sébaco, which is about two thirds of the way from Managua to Estelí, where they treated me to a chicken lunch. They took the bus up to Estelí and I went straight for Matagalpa.
When I got to Matagalpa, I was very pleasantly surprised. It wasn't anything like the ghetto of Managua that I saw. Right away, that was a relief. The weather was also a relief because it's much cooler up there. I made a reservation at a hotel not too far from the city center. The people were very nice. They took me around, and that's basically when I decided I was going to buy land in the general area.
On the second day I was in the area, I went up to Selva Negra, which is the resort up in the mountains about 15 minutes from Matagalpa. It was gorgeous. So I decided I was going to build a miniature Selva Negra.
Now, two years later, I am very, very happy there. I would have done things differently if I knew in the past what I know now. For example, I have absolutely no knowledge about construction. I had no knowledge about what it takes to bring water or electricity to my property, so now, I would do things a bit differently. Everything worked out, but it cost me more. I always suggest to people to definitely buy land with electricity, a little house, and water, as opposed to having to put all that stuff in.
Now I'm looking forward from my miniature resort in the cool mountains of Nicaragua.