Our Life in the Little Town of La Cruz de Huanacaxtle, Nayarit, Just North of Puerto Vallarta
Posted by Fiona Clark on July 13, 2016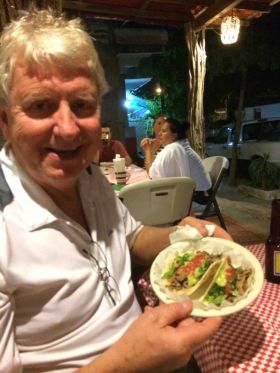 We have just recently retired and plan to spend winters in our condo in La Cruz de Huanacaxtle, Nayarit. We bought the condo 3 years ago and have spent school holidays (I am a retired school teacher) setting up our condo and exploring our village and neighbourhood a little. We barely scratched the surface but look forward to learning more about the area in our 6-month trip this year!
What we have discovered, we love. The locals are so generous and accepting of us "gringos' invading their area, our paradise. Our village is a small fishing village - the local harbour has been developed into a huge marina with some extremely expensive yachts. The local fishermen have an area to the south of the marina and it's a delight to watch them unloading the fish from the pangas to the on-site fish market. Here we buy fish and seafood daily, as do all the large restaurants in the Puerto Vallarta area. We also watch the locals dive for oysters from our balcony, using an old inner tube to collect the seafood.
The village is full of little restaurants and the music is amazing! You can choose from Mexican, rock n roll, flamenca, 80s and 90s music - and dancing to go along! We have an authentic Black Forest schnitzel house, 2 amazing pizza restaurants - one owned by an Italian, fish restaurants (of course), many taco stands, fine dining or street food.
Just north of the village is the Playa Manzanillo with amazing beach food and many Mexican families enjoying a family day. Further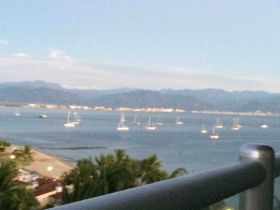 north is the amazing Playa Destillerados - kilometres of white sand and rolling waves. You can rent a table and chairs for the day, buy a cold beer, a muffin, pastries, shrimp or tacos from the wandering sales folk or from one of the beach palapas. The village of Punta de Mita is another of my favourite spots ..... haven't yet visited the 5 star hotel yet but I hear it is decadent! rent a palapa and go snorkling at Islas de Marietas!
Before we bought a car, we rented one and visited San Sebastian, an old silver mining villages in the hills north of Puerto Vallarta. It felt like a village in the French or Italian alps! Perhaps because we stumbled on an amazing Italian restaurant where the chef/ owner made all his own pasta daily. Delicious!
We have so many plans to explore on our next trip - especially now as we no longer have to rely on the bus or collectivo!