Bill Edsell, of Ventana Bay Resort in Baja California Sur Gives a History: From the Luck of Odd Shaped Lots to Why the Community is So Great
Posted by Bill Edsell - Ventana Bay Resort on August 12, 2016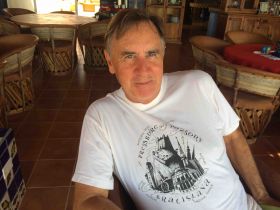 From an interview in July, 2016 by Chuck Bolotin, Best Places' VP. Business Development:
Chuck:
Bill, you are a real legend and pioneer here in the La Ventana area, which we should let everyone know is a little seaside village about 40 miles southeast of La Paz. Everybody knows "Mr. Bill." Please let our visitors know your story in the area.
Bill:
My story starts in 1982. I had been to Mexico and I wanted to open a wind surfing school. I looked around all the west coast of Mexico and then somebody told me, "Oh, you should check out Baja." At that point, I had never been to Baja.
I jumped on a ferry and something just grabbed me about Baja. I don't know if it's the weather, the low population, or something else, but it's something. It's very different from the mainland and you can feel it, you can sense it, right away.
So I went to Cabo because that's the only place that had really any tourists then. From a business point of view it wasn't a smart decision because, even though there were tourists, there weren't that many. There were only a couple of hotels then. But back then, Cabo was like La Ventana. It was quite beautiful.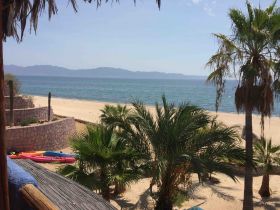 I ended up opening a school in Cabo and I ran the business for a couple of years. But the sport of wind surfing was evolving where people wanted more wind than Cabo had, so we found Las Barriles (on the Sea of Cortez, north-east of Cabo), which gets wind like here in La Ventana. It's quite windy in the winter. At that time in 1985, I had a partner, and we agreed to move from Cabo to Las Barriles. Right about that time, the growth in Cabo just started going crazy and it still hasn't stopped. Every time I go down there I am amazed.
Right now in the corridor between San Jose and Cabo San Lucas, they are putting up these monster structures that are unbelievable. It's sad because Cabo itself was such a beautiful place and now it's just a mess. So for me, they just destroyed it. They overbuilt it with no planning, but somehow, it functions. They pump a lot of tourists through there, so there's a need for that, I guess. It's not what I want, what I like to live in, or what my clients are attracted to, but there are lots of people who like it.
So when Cabo started to explode in '85 it was the perfect timing for me because I got out of there right at the time, over to Las Barriles. Las Barriles was like it is here in La Ventana. Very quiet, but a little more established because they had the fishing hotels there.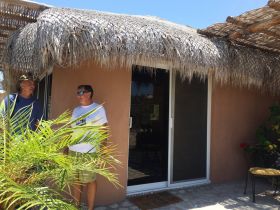 I approached the fishing hotels because they used to close in the winter and I said, "Hey, would you guys stay open in the winter if we brought you some business?" and they said, "Okay, sure." And so that's when we started the windsurfing business and the hotel got a winter business. Their high season still revolves around fishing in the summer but they are certainly getting a lot of winter business now. I operated in Las Barriles for 15 years and then found my current property.
This property in La Ventana came on the market when they changed the laws in 1996. They had all this land given to farming co-ops by presidents over time, so there were these huge pieces of land all over Baja that were under land grant laws. The people could use the land but they couldn't get title to it and they couldn't sell it. So the government got smart and said, "Hey, we're not getting anything, including land taxes, from these large tracts of land, so why not just give it to the people?" And they did.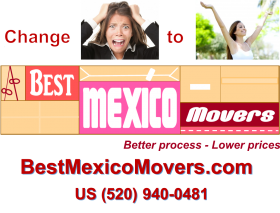 For example, in this area they cut all the land from the end of the bay past the hot springs into these 30-meter wide by a thousand meters long pieces so that they could give everybody a beachfront. Everybody who had a right to drew a lottery, so someone may get Lot 35, someone else would get Lot 36, and so on.
Chuck:
Who were the people who were entitled to be in the lottery to get the lots?
Bill:
They are people in the village who are part of the co-op. I don't know how it started, but these co-ops are all over Mexico and each one's particular to it's own area.
Chuck
: Did they pay to be in that co-op or are they entitled to membership based on family ties?
Bill:
Normally, you inherit it through the family. I don't know how they originated, but this is what they had. It was a smart move by the government because beforehand, they weren't doing anything on this land. They weren't farming it or ranching it; it was just nothing.
It probably wasn't the best idea to cut the lots only 30 meters wide by 1,000 meters long. It's like landing strip. What can you do on that piece of land? For most purposes, it doesn't make any sense; it's too narrow.
I was able to buy 7 consecutive pieces and put them together for my project. But I was lucky because the property went pretty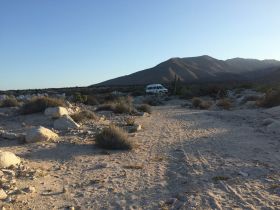 fast. What I purchased was the only pieces that I could have used, so I got here just at the right time. All the neighbors on each side of me only have 30-meter wide lots.
As a result of the size of the lots, you're not going to get a big hotel or a big condominium project to come in here because there's no suitably wide piece of land to develop. So from one side of the table, I like this, because it's going to stay pretty small here. But from the government side, if they want a lot of development, it doesn't make sense. If you look at it from a developer's perspective, if you look at this whole place from where we are all the way back to the mountains, all the way to the other side, can you imagine what you could build here with golf courses and hotels with the views here? It would be spectacular.
It's not my kind of thing and I'd hate to see it, and now, it's not going to happen because of how they divided the properties. If some Hyatt or some big hotel chain developer came in here when it was first selling and just started buying everything up, they could have done it. The planners should have set aside an area to do a hotel or do some projects, but they didn't do anything like that. As a result, it's a little bit of a mess how they did things, for example, having beach access that goes off the cliff. They didn't think about that stuff, so, for example, the hot springs bay is beautiful but nobody takes care of it. There's garbage, and there's no bathrooms.
Chuck:
So please tell us more about how you were able to purchase your land.
Bill
: In 1996, when they changed the law to give the people in the co-ops ownership, once they had ownership, they could sell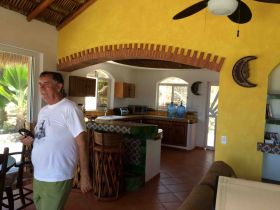 it but they didn't have to sell it. In a lot of areas in they mainland that went through the same process; they didn't sell the land because they farmed it. They actually used it so they kept it. But in areas like here in La Ventana, they were happy to sell it, because they didn't use it for anything.
So it was a real boon to the area because everybody got some money and was able to buy a fishing boat or open a store or fix up their house. Some people just threw it away and bought a new Mustang, but for a lot of people, it helped them get a little start and that start combined with the investment from people like me who built hotels and so on made it so that these people now had jobs and they have businesses. If you talk to the locals I think they'd tell you, "Yeah, we're pretty happy." And that's in a short time span too, as the original land was selling until 2000.
Barriles, where I used to be, is still pretty nice. It's developed a little bit more and it's lost some its charm, which happens as soon as you get things like a strip bar. It's nice to have a bank, which they have now.
So as far as I'm concerned, it worked out perfectly to find this place in La Ventana and move up here. And now I'm just hoping that this place doesn't explode. In one way, you can see it. It's changed dramatically from when I started, but on the other hand, it hasn't. We don't have big projects. When you put up these 500 to 1,000 room hotels you change the whole infrastructure because you have to bring in all these workers from outside. You can't use just the locals because there aren't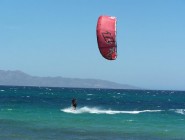 enough of them. Once you start bringing in people from outside you change the whole culture. In contrast, here, everybody knows everybody. They're very honest people; very honest. Obviously, you're going to get the odd black sheep but they know it, and they put the finger on the guy. So it's a real community still, and that would be broken open if you start overdeveloping. So from perspective, this place is great.
If the people who are coming here are more into nature and protecting the environment and they want to interact with the community and if the community will accept that they could do some things to help protect this area more because as it grows you start to have problems. For example, one thing that drove me nuts in Las Barriles was motorcycles and traffic on the beach. At that time, my place there was right on the beach and these motorcycles, day and night, night and day, would be going by. In contrast, it's so quiet here. You need to work as a community because, for example, if you go to Barriles now, they don't care. The beach is a highway. Some people don't like it but there are not enough people to fight it. You have to have a strong community to fight off those kinds of things. There are laws but they're not automatic. You have to go as a community and say, "We want to protect this area. We don't want any cars on the beach." And then they'll come and do something. As another example, they will protect the turtles and those kinds of things. We'll see what happens here.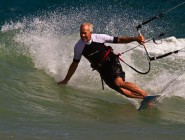 I watch the community grow and I see more people getting involved. For example, we had a lot of problems with garbage because the garbage truck that usually comes from La Paz is broken and then they closed the dump. You know, these silly little issues. The local Mexicans are a little different about things like that. They'd say, "Oh, that's how it is. You know, the government's corrupt. That's how it is." But the foreigners don't accept it. They'd say, "No, this is not right." So they form a little committee and they're working with the local people and they're looking at ideas to maybe buy a garbage truck for the community; things like that. So that's good.
I see it very differently than in Cabo particularly because people in Cabo go into these compounds and forts and they don't want to mix with the locals. It's a different world than here in La Ventana. In Cabo, they're not going to get involved with anything like that. In contrast, that's what I like about this area in La Ventana. I don't know if it will change but right now the people are very warm and very open to the foreigners coming in. I think 99% of them, if you ask them, they would tell you they're happy about foreigners coming in. But I bet you, in Barriles and Cabo, there are a lot of locals who would say they don't like foreigners coming in. They're not happy with it because of how they were treated maybe by some foreigners and misunderstood; some things like that. So that's what's good about this area right now. The interaction between the locals and the foreigners is really good. They're happy and just pleasant to be around. For me, the people here are one of the positives, for sure.
***All photographs are taken by Jet Metier of Best Places in the World to Retire, except for the kite boarding pictures, which are courtesy of Ventana Bay Resorts:
Bill Edsell, owner and developer of Ventana Bay Resort, La Ventana Bay, Baja California Sur, Mexico.
The view from the palapa restaurant, where this interview took place, of the beach outside of Ventana Bay Resort, the Sea of Cortez and Isla Cerralvo.
Owner Bill Edsell after this interview with Chuck Bolotin, VP of Business Development for

Best Places

, talking under the shade of the one the resort's palapa covered bungalows.
The gate into the resort and the dirt road to the rooms, restaurant, beach and kite boarding school.
The desert above Hot Springs Beach, La Ventana Bay, Baja California Sur, Mexico, an area without services.
Bill Edsell inside one of his well - equipped bungalows, featuring custom wood fixtures, a Mexican-style kitchen and comfortable couches.
Kite boarding at Ventana Bay Resort on the Sea of Cortez.