Scenic Back Road Trip to Janson Coffee Farm In Volcan
Posted by Linda Jensen on July 3, 2016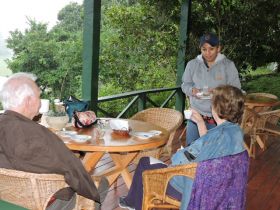 This was a special day for my friends from Alabama. They had wanted to go visit the Janson Coffee Farm for the last two years. This was a great day for slow drive to Volcan. It was a cool, rainy, gray day but the smiles and laughter made it feel warm and happy. All along the way there was an air of excitement from the two of them. I heard stories about the times they rode horses with the Janson family, picnics and weekend outings; all the memories were so pleasant. Along the way we drove past the orange groves and they remembered when they had lived in David in the seventies. In those days they said the oranges were bigger, sweeter and better than any they had ever had before. It was a fun outing to take the kids and pick their own fruit. The two of them talked and shared memories as we drove the windy road and steep grades towards the highway to Volcan.
Jim and Dot have traveled to many places and lived in other Latin countries. However, they liked Boquete, Panama best and purchased a condo there.
In the small town of Volcan both of them commented about the new stores, updated and modern looking places that seemed to pop up in just the last couple of years. As we turned to drive towards the coffee farm I had to remind them the road is unpaved and a bit rough. Memory served them well; they said the road has not changed a a bit. In light rain we dodged potholes and wobbled slowly over rocks, admiring the countryside as we neared the coffee farm. Once we arrived it seemed to be perfect timing. There was a Janson son standing right inside the coffee shop. As one would imagine, the reunion was a joy and also sad. His mother had died years ago. That part was sad. My friends had a fun reunion and engaged in memories and questions for a good thirty minutes We enjoyed some wonderful coffee treats, and a delicious lemon pie. The rain let up and we took pictures of a few things.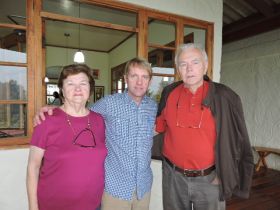 (The time before I was there it was almost as gray but we had sunshine pop out now and then.) The views are magnificent of distant mountains.
The farm is still a working farm with cattle and agriculture. Coffee is the main business. The farm grows hundreds of hectares of coffee. Some of this fantastic coffee is sold for at over a hundred plus dollars a pound. It is called Geisha. I saw a large bag of it for sale in the cafe for two hundred ten dollars which looked to be about a five pound size bag. There coffee tours, bird watching, horseback riding, hiking and fishing. Something for everyone!