Unexpected Tango Lessons At The Magnolia Inn In Casco Viejo
Posted by Jet Metier - Best Places in the World to Retire on December 26, 2012

We were walking around Casco Viejo in Panama City, Panama, looking for who knows what, having fun exploring, until, absorbed in our adventure, we became lost. I dug in my heels, refused to go any further and insisted that my husband consult the map. As we did, we must have been quarreling loudly, for a voice came from the balcony above, a woman busy with something, talking on her phone, working on the net, maybe combing out her hair, maybe all three, I can't quite remember, but she asked not once but twice, "Are you trying to find something on your map?"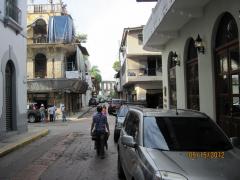 We took a moment to answer. We were not expecting to hear unaccented English spoken. "A restaurant, " we replied. The day was just beginning to dim. People were coming home from work, there were cooking smells coming out of the apartments, the evening cats were beginning their prowl.
The woman who we later came to know as Cherie had been under the weather and her throat was still sore.
"Tell me which one, "she responded, "Some have gone out of business." Sure enough, the one we wanted had been shuttered. "Can you recommend another?" we asked, backing up against the facing building so we could see her better. Her demeanor was pleasant, eager to help.
She gave her recommendation and asked what we were doing after dinner. "Why not take tango lessons? We are offering free lessons at the Magnolia Inn."
She was in her own apartment, in a beautiful building, and she knew the owners of Los Cuatro Tulipanes, as well as, it seemed, much of the community of Casco Viejo. She introduced herself as Cherie and said that her inn would be the best place to be in Casco that night.
We decided on a restaurant diagonally across Bolivar Plaza called Casablanca, which, like others at the park, used outside seating on the plaza. We took a great spot, away from a harsh light, and against the rail of the park. Once my husband and I sat there, the place immediately began to fill up, six to eight other couples and parties within 20 minutes.
Later that night, we re-traced our steps back to the Magnolia Inn, and, as instructed by Cherie, took the steps to the second floor. There, with a diverse group of expats, visitors and regulars, we tangoed.