How I came to be in Panama? Literally, the "jig" was up!
Posted by Sarah Booth - Panama Holiday Homes & Buyer's Consultant with My Panama Real Estate on November 27, 2015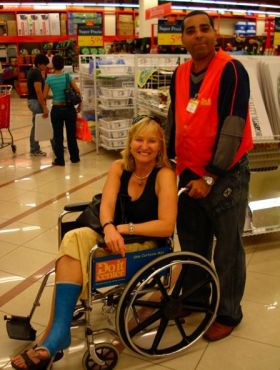 Flash back to 8 years ago, when I visited Panama (from Mexico where I was living) to attend an International Living Conference. Panama was on my radar big time, as an international investor. The prices, cost of living, ease of doing business, resident visa programs... every box was checked. While I didn't plan on living in Panama, I was keen to add to my investment portfolio, purchase and furnish a property and set it up for short-term vacation rentals as I do with all my properties. I prefer to rent short term as the revenue is high and I am able to travel more and use my own properties between rentals. It's so much nicer to go "home" when traveling.
So, I land in Panama and hit the ground running, looking at properties with realtors that I had lined up in advance. Two days into my visit, I put an offer in on a centrally located 2-bedroom penthouse... $76,500! I was so excited about my acquisition, I took a bit of time off to enjoy some of Panama City's famous nightlife including a trip to the casino. Having then won a bit of money, I proceeded to do a little "jig" on the street waiting for a taxi.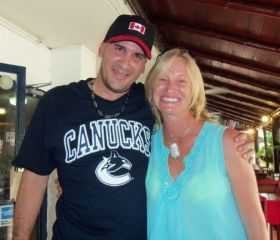 I landed in a small pothole on the street and broke my foot. The "jig was up!" So, I visited the Hospital Nacionale (great hospital; I still go there for my annual checkups, etc.), which was only 2 blocks from my new apartment. $40 later, I then realized how inexpensive health care was and the bedside manner unbeatable. This $40 included emergency visit, cast, crutches and painkillers. Wow!
So I'm "crutching around" Panama after purchasing this property, furnishing it and making friends; expats and locals. At the IL conference, I experienced a more urgent 911 than my broken foot – yes, my MacBook Pro crashed! I was referred to Alex Newman, who was recommended to me as a guru of everything computer-related. Alex is still a great friend of mine and the most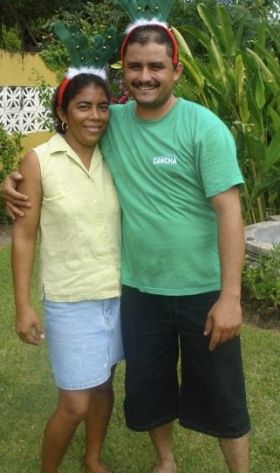 famous tech guy in Panama, featured daily on local TV and radio. Alex also took me to the hardware and furniture stores and helped orient me on how to go about dealing with my apartments, utilities etc. What a great guy!
So, now crutching around, I postponed my further travel plans and hired a taxi driver (who is, to this day, is my trusted friend and driver and has looked after my rental clients for years!) to take me around the city so I could select the properties I liked to make further investments. I staked out a couple of buildings, chatted with the security guards, owners at the pool, and made myself known. I was able to make some great contacts and negotiated well on two further properties! My trusted taxi driver promptly became my new property manager. It couldn't have worked any better!
A few weeks later, I decided to check out Coronado as I was having so much fun and making new friends, but I am not a "city living" person. I am all about golf and beach. I stayed at the Coronado Golf Resort where the staff bent over backwards to wheelchair me around and ensured I had a steady flow of cocktails by the pool. Having such a great time there, I decided that's where I wanted to live. Coronado had proximity to Panama City to handle my new rentals, but the peace and recreational opportunities of the beach area.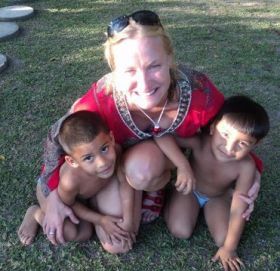 Nine years later, I have invested in my primary Coronado home, where I have built rental casitas on my property (they are full of short term guests year – round. There is little to no "low" season here in Coronado.) That was going so well, I further invested in a luxury 2-bedroom golf course condo, a handful of beachfront condos and a pre-construction beachfront ready in 2 years for the great payment plans and leveraging. All my rentals are popular, and I couldn't be happier.
I have guests visiting for holiday time, yet the majority are here to look at property investing and picking my brain on all things relating to Panama relocation. I have become their "person" and I'm happy to pay it forward after experiencing the kindness and generosity of my first friends Jose (driver) and Alex Neuman.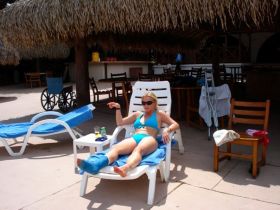 They were the guys who usually pushed me around on the wheelchair, introduced me to everybody, and helped me out. They are still both my very best friends. Alex introduced me to his dentist, who I now recommend to all my clients. I have clients who actually fly to Panama just to see my dentist to get crowns and other dental work. Alex did all of these wonderful things for me and now, I get to do same for hundreds of others visiting Panama. I can alleviate all of their "fears" as I've been through it and have no regrets. In fact, it's all so much easier now – all you need are the right people!
I've never had to push Alex or Jose around on a wheelchair, but if he needed it, I would be more than happy to.
Pictures, from top:
Alex taking a break from pushing me around and Juan, my Do-It Center guy was happy to take over.
Jose, my trusted driver and property manager in Panama City.
Vilma and Luis, caretakers on my property in Coronado (they came with the house!)
Vilma's grandkids. I get to practice my Spanish daily as well as kicking the soccer ball around.
Sarah planning her next move from the Coronado Golf & Tennis Resort.
Sarah, Jose and rental clients lunching at Amador Causeway.