Bringing Pets to Panama
Posted by Cindy Thomas (tombseekers blog) - Amigos de Animales on September 14, 2013

The most worrisome part of our move to Panama was not selling all of our possessions, not financial, not assimilating to our new environment.  The most stressful part of our relocation was moving our two cats, Alexander and Henry.
Like many people, our pets are like family.  Alex was 14+ years old and Henry is afraid of everything.  The paperwork process was less hassle than it sounds on the various websites.  Within 30 days of departure, the animals must have all their shots up to date.  Then the form from the vet goes to the Department of Agriculture.  Then it is stamped by the Panamanian Consulate.  We were lucky that both of these offices in Miami are close to one another and only about 50 miles from our home.  The paperwork was completed in a single day.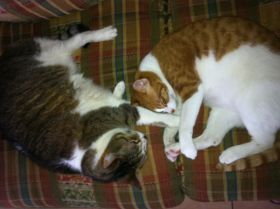 Our cats hate driving in the car so we chose to move in stages.  We lived in South Florida so we stayed one night at the Miami Airport so their long ride would be over before the flight.  Then we took them in the cabin in their soft-sided carriers covered with a black drape.  They were fine.  Then we stayed at a pet friendly hotel in Panama City.  Again, they were fine.
The following day we made the long, but uneventful, drive to Boquete, about 8 hours away.  We had a litterbox in the rental car but they did not use it.  By the time we got to our rental house, they were happy to be out of the car.
Now that we have been here for several months, I have noticed that our cats have never been happier or healthier.  Maybe it's because they get more exercise climbing stairs in our house or the fresh air.  Since then, I have seen several people bring their animals into Panama - all with no difficulty.
Before we moved, I wrote many articles about this fear.  Happily, my fears were for no reason.