Plodding Along Is The Local 'Freight Truck' In Nicaragua
Posted by Kent Payne on February 15, 2014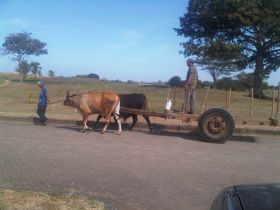 While the wheels/tires are 21st century (oh, OK, 20th century), the technology behind this freight mover is thousands of years old. I found it interesting and amusing that the local hauler still uses oxen to pull heavy loads.
What I did not know is that many times, while autos and trucks couldn't pull out mired vehicles on the local roads, a team of oxen could. I guess that eight hooves are better than 4x4 drives sometimes. Slow, but effective.
Thankfully it doesn't matter now, since we are through with the muck. Our hard paved road is due to be completed in the next few months (note the brick "adoquin" road already on the property of Gran Pacifica).