Living safely in Belize
Posted by John Acott on May 12, 2015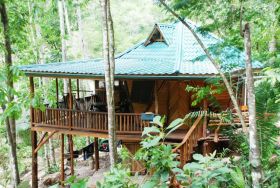 I have just read Tyson's story about how you need to bring chains and dogs and machetes and guns to Belize and I'm just trying to work out which Belize he is referring to.
I have lived in the twin towns of San Ignacio and Santa Elena for almost 30 years and I have never been robbed, burgled, assaulted, mugged, hassled, or whatever - never ever. I don't have a gun and have never felt the need to buy one.
Now, I'm not saying that Tyson is mistaken or unlucky but he also doesn't say where he lives. Obviously, if you live in some remote place you need to take special precautions to protect your family and possessions, the same as you would anywhere in the world.
I would like to think that I have been protected because of my winning personality but, I guess we can dismiss that idea.
Actually, what Tyson said about chaining things down is true because there is a certain amount of stealing in Belize and dogs are always a commonsense security precaution against that.
Many people do walk around with a machete in their hands but they are not intending to chop somebody with it. A machete is a general tool for cutting lawns, hedges, bush, etc.
Belize does have a very high statistical murder rate and it is because of the gang warfare that is more-or-less contained in the south part of Belize City. I have friends who live in Belize City and they say they are not affected by the crime there at all.
Certainly, here in the Cayo District I have always felt very safe.