Macarena Rose: The Oprah of San Ignacio, Cayo District, Belize
What happens when you mix two years of shamanic work, 12 peacocks, zero chickens, 42 animals on two acres, five cats, five dogs, two biological children, six adopted children, a 10 day fact finding tour, a move with 10 animals, two teenagers, one best friend from high school and four containers, 10 minutes to be in the jungle (12 without seeing a snake), and five House Hunter's International, with one caring, remarkable woman? Read on, and find out, as Jet Metier interviews Macarena Rose.
Jet Metier: Thank you, Macarena, for joining us. We can tell by your posts on our site that you've led a very full and somewhat unorthodox life. I see you with your fiery red hair and your name. You're like the Unsinkable Molly Brown. Your life would be a great musical. Please tell us how you became interested in Belize.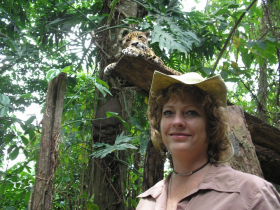 ​Macarena Rose:
The first time I saw Belize was when my church, the Sentient Temple, in St. Petersburg, Florida, asked me to teach a course in Reiki, which is a mode of hands-on healing, in San Ignacio, in the Cayo District.
The Sentient Temple is basically a Christian all denomination church. I'm a minister. There is no hierarchy because it's not needed. Everybody just works and does their own thing to help people. So when we went to Belize, we went to teach our healing work and also to do mission work. I did not go there to look at moving to Belize.
Jet Metier:
What was the experience to become a minister like?
Macarena Rose:
It was a 2-year process in which we do shamanic work. We pass through different levels of ascension through which we demonstrate what kind of preaching you know and how well you know your studies. So when I went to Belize I wanted to help teach and we also knew Mayan prayers.
Jet Metier:
What is a Shamanic prayer?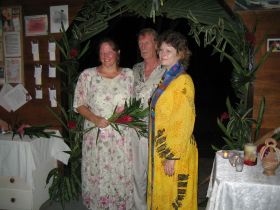 ​Macarena Rose:
Shamanism is basically the healing work of all faiths. A shaman gets into meditation and believes in a world of benevolence and of helping people. Shamanic people ask for healing or some intuition of how to move forward. It's an ancient healing tradition. This was my reason for going to Belize. I wanted to learn more about Shamanic work.
Jet Metier: How many countries up to that point had you visited?
Macarena Rose: Africa, twice. I've been to Egypt four times, Greece, England, Costa Rica, a lot of the different islands, Bahamas, St. Croix. I love the jungle. It's a very spiritual place because you hear the sounds of the jungle and you have the smells that are only in the jungle and the fresh air.
Jet Metier: So you get off the plane and you are in Belize City. What were your first impressions?

Macarena Rose: That the airport is probably the size of three McDonalds. But I was happy. We were going to stay at this resort that was a block away from the ruins; Cahal Pech. I love ruins.
These were Mayan ruins, and these particular ruins were the Presidential Palace ruins. There were chambers and I adored it. It's the sacredness of them; the reverence and that they're still standing. They're amazing. And you can feel the energy when you're there. It's interesting. My office is now a block away from that ruin.
Jet Metier:
What kind of things did you bring to donate?
Macarena Rose:
Clothing, shoes, books, and children's crayons and coloring books.
Jet Metier:
How do you do mission work in Belize? What is the procedure?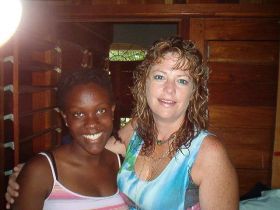 ​Macarena Rose:
You find the need. Do they need books? Do they need shoes? Before you go, you contact people. We knew people and we knew what they needed.
Jet Metier: The most popular thing that they needed?

Macarena Rose: Shoes. Shoes in Belize are very cost-prohibited and they are not the best quality.. So if you can bring shoes from North America it's like having a piece of gold. I'm always buying shoes for people because there's always somebody who needs shoes.

Jet Metier: How long have you been interested in service? What was your background?
Macarena Rose:
I have been interested in service since I was a child. My grandmother would take me to different churches. We were Catholic and she would do Episcopalian for a while. My grandfather was a Methodist minister, so servitude is in our family. It's either in you to be kind or it's not. And for people who have a great capacity to love and have a lot of kindness, that's their normal, to do things that come from love. Unfortunately, sometimes you just want to give until you have your last penny.
Jet Metier:
What was your first impression of the Belizean jungle? How did it distinguish itself from other jungles?
Macarena Rose:
I guess how easy it was to could get to. San Ignacio is more or less like a little Mayberry, a little town, which is why I love it because you can walk the town. You don't need a car. It's probably one of my favorite places in the whole wide world. But the biggest thing for me about the jungle was that I could see the mountains and the jungle all around me, and how easily I could leave my office and in ten minutes, be in the jungle.
J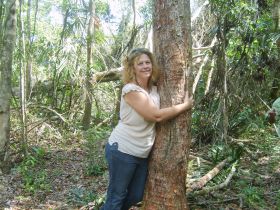 et Metier:
And when you're in the jungle, what is it like? You mentioned the sounds and so forth. What do you see? What do you smell? What do you hear?
Macarena Rose:
You smell the water and the air, and it smells, especially if it's just been raining, that beautiful smell after everything gets wet. There are a lot of flowers in the jungle that we would pay big bucks in the States for, like the bird in paradise, the orchids and the ginger plants.
It's just a magical place to walk in the jungle because there are no sounds. There are not a lot of places where I could go to where there wasn't ambient light at night and there aren't sounds other than just nature. There's an abundance of that in Belize, because there are only 340,000 people in the whole country.
When you go in the jungle, you always have to have a sharp machete because you can cut the water vine to get water to drink.
Jet Metier:
No kidding? Do you do that? You must be Jane of the Jungle. What does the water taste like?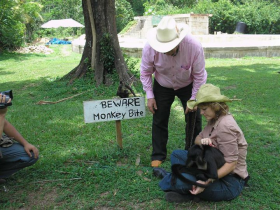 ​Macarena Rose:
Oh, my God. It's the most amazing thing because you get the water from the heavens. When you get water from the water vine, it's like it has its own purification. It's almost spiritual.
Jet Metier:
Tell me, if I'm leaving my house in San Ignacio to go to the jungle, do I need a machete?
Macarena Rose:
If you know you're going to the jungle, you need your machete because you want to make noise as you're walking through the path. You're either cutting through the path or you're making noise, to ward off the snakes that you would otherwise be encountering.
Jet Metier:
Does it work to ward off snakes?
Macarena Rose:
Yes. I've been in Belize for 12 years and I've only seen a snake in the jungle one time.
Jet Metier:
Please tell us a bit about how you and your group help out in Belize.
Macarena Rose:
We just want just to be of service. For example, if someone comes to my office and tells me of a child who needs a laptop and some money to stay in school, I would let my network know, perhaps through a an email and / or a video. As a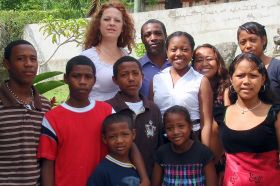 result, someone may offer to help. In Belize, they have to pay for high school, even though it is government run.
In this example, one of my clients was willing to purchase the laptop and pay for this boy's education. When the laptop came in, we took a picture with the boy and the laptop, so the people who sent it could see who it went to. And we had a picture of the donors to give to the boy, so he knew where the laptop and the money came from and he knew that he had to be responsible to them by doing well in school.

Jet Metier: How long ago did this happen and how is he doing in school?
Macarena Rose: Oh, he's since graduated.

Jet Metier: That's wonderful. How long did it take you to decide you wanted to stay in Belize?
Macarena Rose:
Four days after being here in Belize, I was sitting on the veranda of the restaurant of the hotel. I looked over the town and I said out of the blue to everybody at the table, "I'm going to live here."
Jet Metier:
When you went back home, what kind of ties would you have to break?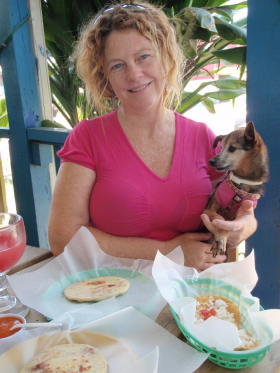 ​Macarena Rose:
I had a lot because I had a home on two acres in Florida.
Jet Metier:
What about relationships? Were you married that time?
Macarena Rose:
No. But I had my children in the house. I wasn't going to move until the last one graduated. And I had animals. Children could travel with me, but I had animals. I had emus, I had peacocks, goats, pot- bellied pigs, and I had sugar gliders.
Jet Metier:
So let's count. How many animals did you have around that time?
Macarena Rose: I'll do the math. I'm jotting on paper first. We had the two pot-bellied pigs and we had six Nubian goats. They're milk goats; they're adorable. Twelve peacocks.

Jet Metier: No birds beside the peacocks? No chickens?

Macarena Rose: No, because I couldn't have chickens. They make a lot of noise. I had a fish and game license, which was extremely difficult to get. Okay, so I had 42 animals. Five dogs and five cats went to Belize.
I started talking to my kids, and I said, when the last one graduated, I would move to Belize.
Jet Metier:
And how many kids do you have?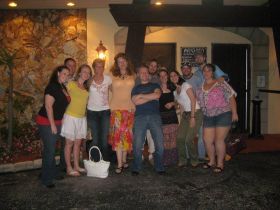 ​Macarena Rose
: I have two biological and six adopted. Chiara, my youngest, who is also my biological child and the highest maintenance, was still at home.
Jet Metier:
Eight children. That is stunning.

Macarena Rose: It just so happened that my children found other children who needed to have safe homes.

Jet Metier: Did you go back to Belize before you moved?
Macarena Rose: I went back with my best friend from high school. I thought, "Alright, let me to go back because there's something that's on my heart and when I feel that, I follow it."
We had to save our money, we had to make our plans, take care of the kids. We had a lot of things to figure out. I'm said, "Let's go for 10 days and see some of the country because we've only seen one town; San Ignacio."
We went back and had ten fabulous days in Belize. When the plane was preparing to take off to go back to the US, I was ready to cry.

When I got back my daughter, who was in high school, asked, "So how was Belize?"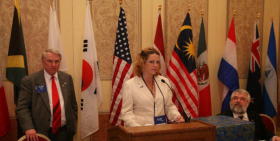 "Wonderful."
"Are you still going to move to Belize when I graduate?"
"Absolutely."
"Well, I have to tell you, I have a feeling, we have to go."
"'We'? What do you mean, 'we?' "
She said, again, "I have a feeling we're supposed to go."
I said, "This is all new. Why don't you do some research on Belize? You've never been there. I will introduce you to some people, you could email back and forth and you could do some research on the Internet and let's see if you still have that feeling in January."
In January, she let me know right away that nothing changed. She still wanted to go.
In March, we moved to Belize with ten animals and two teenagers, my best friend from high school and four containers.
Jet Metier:
Two teenagers? Who was the second one?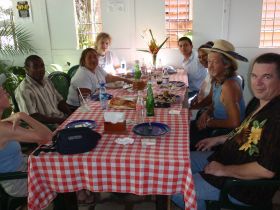 ​Macarena Rose
: My goddaughter, who is my best friend from high school's daughter. She was 13. My goddaughter spent a lot of time at my house.

Jet Metier: So how did this even work out? How did you find out that this girl wanted to go with you?

Macarena Rose: My goddaughter spent a lot of time at the house because she was an only child and I had lots of kids. She got excited when my daughter was doing the research.
I had lots of kids there, so it wasn't a big deal to have one more child. And then of course, my best friend from high school wanted to go. I told them that I would help them to fund it, and it just kind of grew from there.
Jet Metier:
What did you bring when you moved?
Macarena Rose
: We moved with four containers. We brought everything. We brought our lawn equipment; we brought tools. We brought everything because we knew that what we didn't need, we could donate in Belize.
Jet Metier:
Did the move change your daughter?
Macarena Rose
: Yes, because we brought so much stuff that when we would walk downtown and we would see people wearing the clothes and shoes we donated, it would freak her out in the coolest way.
So I said, "I told you, Babe. People need things here."
Jet Metier:
Wow. What about your goddaughter? What was her response to Belize?
Macarena Rose
: She just absolutely loved it. She started eating healthier and immediately lost 20 lbs. It just fell off her.
Jet Metier:
How did you get started in real estate in Belize?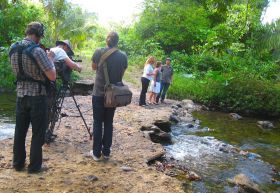 ​Macarena Rose
: I was looking for two homes; one for my daughter me and one for my best friend and her daughter. We landed at my friend Daniel's resort, where he said we could stay. He gave us this great space that he actually built for us; just a sweetheart of a guy. He built a third floor penthouse. I needed land. I didn't have time to come there and look for a property. I had to literally get on a plane on a Friday and be ready to put the kids in school on Monday. So I started looking for property and there was nobody that willing to tell me the real price of the property. They were trying to tell me a pretend price.
Jet Metier:
Were you dealing with real estate agents or directly with the owners?
Macarena Rose
: Real estate agents. My mom has been a realtor since I was a child. I really believe in using a realtor. In the US, they know what's going on in the market and they subscribe to a code of ethics, but they didn't do this in Belize.
I worked with these three different guys who all showed me the same property, but asked a different price for it.
This practice is called "net listing" and in Belize, it's not illegal. But in the States, you can't do this. In Belize, I may come to your office, and ask you to sell my property, saying that I need $100,000 for it.
The agent may say, "Awesome. I'll sell it for you. Sign here."
Then the agent could market it for $200,000 and they will keep anything over $100,000.

I was livid after the third guy showed me the same property at a different price. I went to my friend Daniel, who used to be a political minister in the country, and said, "Listen. Why is that? Is it because I'm a single mom here? They see me as an easy mark? Why are they taking advantage of me?"

"Oh, no, no, no. Don't even worry about that. That's what they do here," he told me.
I said, "Well, that's not right because the buyer is getting screwed. They're paying too much money. The seller is getting screwed because they're not getting paid the actual price of the property. The only person who's coming out here and winning is the real estate agent. That's not good business because it's not win-win and it's not healthy. And you're falsifying the real estate market."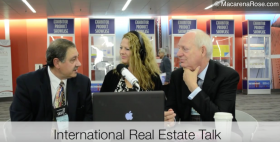 After hearing this, Daniel said, "Macarena, if you don't like it, I've got properties. You could be in business tomorrow."
So I took him up on that. I needed to learn from people who really knew what was going on. So he gave me the names of people to talk to and that's what I did. And I'm glad I did because really, really good people always know really, really good people because that's their measuring stick. That's what they look for.
Jet Metier:
So did you think of what you would do to support yourself in Belize before this fell onto your lap? What were your ideas?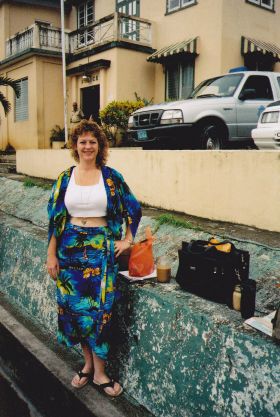 ​Macarena Rose
: I had enough that I had already budgeted that I could live for only a year, maybe two years, without having to do anything. But I didn't wait for that. I live by faith and I just knew that something was going to come up and it did. I never, ever thought it would be real estate.
I built a website. Daniel also had a resort, so people would come in and I would talk to them. I'm an accredited buyer's agent, so what that means is, I don't need to have listings. I just need buyers who want really good concierge service and someone who would really look out for them. You might like a particular property, but I may tell you that's it's priced too high or the neighborhood is not something I think you should be looking at, and why.

Jet Metier: How many people buy on a first visit?

Macarena Rose: It doesn't happen often. I ask people not to do that, because they're in holiday mode. You just have to have a plan. And that is what we do. We work with people and consult with them. When you help people, obviously some of these people are being helped with a sale.

Jet Metier: How did you get associated with House Hunters International?

Macarena Rose: The lady from New York called me, probably six years ago.

Jet Metier: And did you start screaming on the telephone?

Macarena Rose: Yeah. I actually thought she was kidding and one of my friends had put her up to calling me. Everybody knows I love this show.
She wasn't impressed that I wasn't impressed. I thought it was a joke, but when I went to my email, there was this email from House Hunters.
So that was how it started and I have done five of those shows and Hector, from my office, has done one.
Jet Metier:
So what was it like being on television?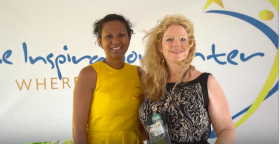 ​Macarena Rose
: I hosted a TV show in Belize, so I already had TV experience. It was called
Belize TV Biography
. It was an hour-long show during which I would just go and talk to people. I would do a biography of their life. They called me "Oprah in Belize." Our stories were everywhere. We would be in the rainforest with a Mayan healer or a birthing room with the first midwife. We were inside a jaguar cage at one time, literally.
Jet Metier: What is your next big vision?

Macarena Rose: I would like to help more people in Belize have a career in real estate and learn how to do it from the place of service.

Jet Metier: How do you think you'll accomplish that?

Macarena Rose: It's about education. We really want to give Belizeans some kind of career. Many of them go to high school, they get out, and then they go into hospitality or tourism. Those are very good jobs, but some people would also like to have the opportunity to have a career.
You can't go to law school in Belize. You can't go to medical school in Belize. You can't go to nursing school. We have a lot of things that restrict our country from giving people a job.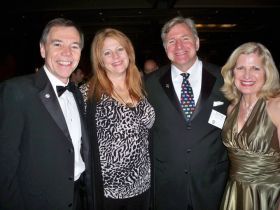 44% of our population of Belize is under 24. All those kids are going to need homes and that's a lot of people. People will always need to buy a house and sell a house, so it is something that young people can actually see themselves doing. But they should be the kind of agents that do not take advantage of the buyers and sellers by pricing properties too high. Price them right. Do the transactions through the lawyers and have an ethical place to work that has a good culture of working with people that are very communicative. That way they can have their families and have their faith and also have a career.
Jet Metier:
What kind of activity do you do that is completely Belizean and wild that you cannot do anyplace else or enjoy it as much?
Macarena Rose
: Probably just walking in town and getting to hang out and talk to people who I know In San Ignacio. In a 15-minute span of time, I will run into 15 people I know by name. It's a very authentic connection.
So what do I do for fun? It's definitely talking to these people who I love and being able to find out more about their stories.

Jet Metier: What's your prayer for Belize, Macarena?

Macarena Rose: My prayer is for Belize is to have positive growth that's committed to the children being able to have prosperous, positive lives.

Jet Metier: Amen, Macarena. Thank you so much for this beautiful interview. It's been so lovely. I know that a lot of people will be touched by your story. You're so remarkable.
Macarena Rose: Thanks. You have a blessed night.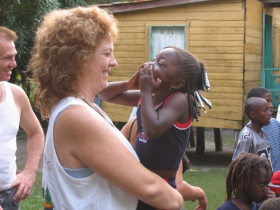 Posted in
My Life in the Cayo District, Belize, Including San Ignacio and Belmopan
August 11, 2015