If you are in Mexico full time or a snowbir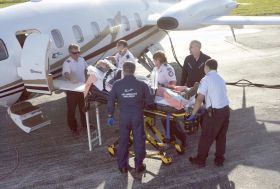 If you are in Mexico full time or a snowbird staying 6 months or more, it would be best for you to purchase a private, year round Mexican health insurance policy. The same is true for almost any country. Many insurance companies have restrictions on pre-existing conditions, so always read the fine print.
I also recommend you purchase a membership from a medical evacuation company such as ours on top of that medical insurance policy if returning to your home city/country in the event of a serious medical condition is important to you. Your insurance policy is only obligated to transport you to another hospital if you cannot be properly treated where first hospitalized, and then, only to the closest facility capable of treating you. An insurance policy has no obligation to take you home to Canada or the U.S.
We know many people are traveling "naked", meaning they have no travel health insurance because as they get older, travel insurance can be too costly. If any of these people require an emergency medical evacuation, it could cost them up to 50 thousand US or more up front. Our membership does not cover hospital cost but at least those who travel naked will have some peace of mind knowing they have medical emergency evacuation coverage that will pay 100% of the air ambulance home; no deductible and no co-pay.
Every year we see many sad situations when someone needs to be air evacked back to the USA or Canada with no coverage. It is very hard on the family trying to find money overnight to pay for a medical air evacuation. We have short trip, annual, and multi-year memberships at a cost is surprisingly small.
(Pictured: medical evacuation to an airplane.)
xxx