When moving or retiring abroad, you'd be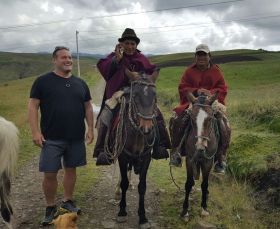 When moving or retiring abroad, you'd be most happily surprised by how outgoing, more much more active, and much easier to meet and befriend the local people are. In the US, the people are a little different.
Another thing to look out for when moving or retiring abroad are the different lifestyles in different places. Typically, the lifestyle in most countries that I've been to is more active than the lifestyle I had in the US. People who want to retire are always looking for an active and healthy lifestyle, and living overseas provides more of this than they experience in the US.
There are many different cultures, colors and things to absorb in moving and living overseas. If people want to immerse themselves in culture, they'll be surprised by how many different nuances there are overseas.
(Ross with new friends found in the Andes in Ecuador, pictured.)
xxx