There are so many things to be happily surp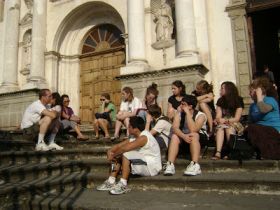 There are so many things to be happily surprised by when retiring abroad. It really is subject to the individual person.
When you consider moving abroad, you're likely going to pick a place that you feel matches your personality. There's an interesting Facebook thing going around where you can answer a few questions and based on the personality questions you answered, the Facebook quiz picks the country that most closely fits your personality type.
You can choose the country, the city, the kind of town, whether it's "hustle-and-bustle", the beach, or quiet mountain living. When you do the research to move abroad, you're picking a place that you think is going to make you happy.
In my case, I moved to Antigua, Guatemala. It's a nice mix. There's a bunch of expats here and lots of great restaurants. The weather is always between 60 and 80 degrees Fahrenheit. I've got children with asthma, so the weather and avoidance of cold weather was really an important criterion for me.
You get to choose the kind of speed, climate, activity level, and type of people in the community. This is the number one advantage that I can think of being an expat.
The second happy surprise is that, in most places in the world outside of the US, you're going to have a much more affordable lifestyle. This is a big concern, not only for retirees, but also for younger people who are building businesses and want a longer runway on the money that they have at their disposal to put towards their business while they're saving on living costs. The cost of living differential between the US and wherever you may be living is an important factor.
Third is the change of pace. There may be a language and cultural difference. When you move abroad, you're exposed to things that are different, which are intellectually and emotionally stimulating.
(Expats in Antigua, Guatemala, pictured.)
xxx