Sad to say, but for us the biggest surprise was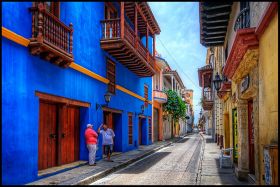 Sad to say, but for us the biggest surprise was how friendly, open and caring people are in both the countries that we've been expats in. Panama has some of the friendliest and most helpful people in the world, and Colombians are, if anything, even more so. If you're considering becoming an expat, give up the existential fear of other people, other cultures, and you'll feel a lot better, and fit in much faster. There are a lot of unfounded, stereotypical horror stories about hostile native people, and gringo bashing episodes, but the vast majority of them are fabrications, Sure, there are criminals and malcontents everywhere, but in our experience, the rest of the population, in Panama and again in Colombia more than make up for the bad actors.
One more thing: If you show a real effort to learn the local language, people tend to be even more friendly and helpful. Go for it.
BE Medellin
​
(Cartagena, Colombia, pictured.)
xxx