Depends entirely on what you're looking for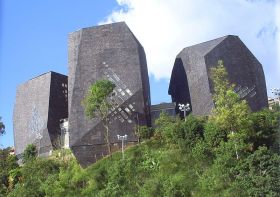 Depends entirely on what you're looking for: Quiet and stimulus free? Cheap and unadorned? Lower cost of living? I can only relate our experience. We lived in Boquete Panama for a year. Then we made the mistake of visiting Medellin Colombia, and fell in love with it. We stayed five days in Medellin, and knew it was the place we wanted to call home. If you're a city person who, like us, loves a good symphony, libraries, parks, public transportation and all other big city attractions, Medellin may be for you. With 3 million people, Medellin hums with activity, traffic, noise (at times) and the usual chaos of city life. But for a city its size, we've never seen one so clean. It has world class public transport, and that feature is very, very cheap. We can go anywhere in Medellin on the Metro for about $3.00 US. There are 40,000 taxis in Medellin (true story) and they, too, are very cheap, two or three dollars at most to go anywhere.
The downside? Due to its geographical siting, Medellin does have a significant air quality problem. City officials are addressing it in novel ways. For example, all those taxis I mentioned are required to have LP gas instead of gasoline. The buses are in line for that conversion as well. So the air is getting cleaner.
All in all, and again for us, Medellin is the best place we've found thus far.
(The stunning architecture of the library, Biblioteca España in Medellín, Colombia, pictured.)
xxx