For me the answer is easy: Guanacaste, Cos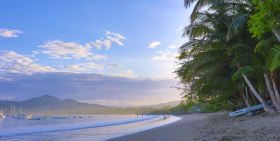 For me the answer is easy: Guanacaste, Costa Rica.
While this answer may not apply to you, the way that I reached it may help you find your answer. When I first visited Costa Rica almost 15 years ago, I had absolutely no idea what to expect. It simply was one of those happy accidents that travel brings. Having lived many years in Miami, I found the cultural similarities and differences attractive, and I set out to explore Costa Rica in search of the perfect place for me. Without organizing my thoughts all that well, I found that my guidelines for the best place in the world to live boiled down to three boxes to check, the three Cs: climate, culture and convenience.
I was used to a warm subtropical climate in Miami. I loved the heat, the humidity not so much. So climate was my first box to check. After wandering around Costa Rica, that led me to Guanacaste, hot but not too humid. Check. From late November through March, sunny with no chance of rain. From April through early November, partly cloudy with chance of showers.
My second box to check was convenience. I wanted to live no more than an hour's drive from an international airport. Liberia International Airport (LIR) is exactly 48 minutes away from my home and offers direct nonstop flights to Miami and many other gateway cities. Check. That is important to me for my convenience and also for the convenience of other Americans that I knew would be buying or renting condominiums at my resort (which I had not yet developed; that mission was accomplished almost ten years ago).
My third box was culture. I had come to love the Latin culture, and also the multinational culture, in Miami. I was looking for the same, only a slower, more relaxed, peaceful version, both Latin and multinational. I found that in Guanacaste, with a local population that is slow-moving and friendly, with one of the world's Blue Zones where people live the longest, healthiest lives. It is a plus that I speak Spanish, but English, French, Italian and German also can be found within 500 meters of my home.
For me, Guanacaste, Costa Rica is the best place to live in the world. For you, create and check your own boxes, and in so doing discover your own best place in the world to live. We might become neighbors.
xxx