What are the best places in the world to retire
What are the best places in the world to retire? The answer to this question will obviously be different for each individual, so I'll just give you my own answer - make of it what you will.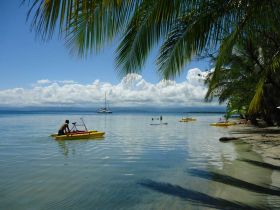 For now, I have chosen to spend my time in beautiful Bocas del Toro on the sunny Caribbean coast of Panama. Take a look at the picture on the right, which shows Starfish Beach, a short bus or boat ride from Bocas Town. That might give you some suggestion as to why you might consider Bocas as a possible retirement location.
I'm not sure that I can actually classify myself as retired, but I haven't done a stroke of paid work for anybody else for over five years now, and that's how I'd like it to stay. I'm a writer, and I wrote my second book right here in paradise. Now that certainly beats some writing in some chilly flat in wintry London, fingers gloved to keep them warm.
Bocas del Toro offers a cheap alternative to the rat-race, a place where the cost of living can be very low, but the quality of life disproportionately high.
The best things about living here?
1). The people - both the expat community and the local populace are wonderful people to spend time with. This place seems to draw interesting, and sometimes slightly eccentric people.
2). The weather - it can rain quite a bit, which is a good thing if you are off-grid and rely on rainwater collection. But when the sun comes out, which it does often, and there is no wind, the lagoon is so beautiful.
3). Wonderful restaurants - away from town, down in the lagoons there are some hidden gems which offer wonderful social scenes, awesome views and great food.
4). Dolphins - I live just outside Dolphin Bay, and when out and about in the boat it is rare not to see at least a couple of dolphins. They always brighten your day.
5). Swimming and snorkelling - I can do both right from my dock.
6). Clothing choice - one of my favourite things is that here the temperature is pretty constant. When you get up in a morning there is no clothing dilemmas:
"Will I take a jacket?"
"What shoes should I wear?"
You can be pretty sure that shorts, t-shirt and a pair of flip-flops cover all occasions.
I could go on, but instead I'll just suggest that you really need to come and take a look at this special place for yourself.
xxx