BEST PLACES IN THE WORLD TO RETIRE...PANAMA IS
BEST PLACES IN THE WORLD TO RETIRE...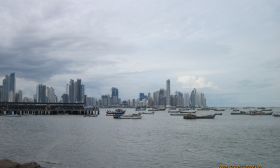 PANAMA IS DEFINITELY ONE OF THE BEST!
Panama is not a place to come to die - Panama is a place to come and start living and enjoying life. You work all your life, and now you deserve to start living it.
Panama offers an environment that stimulates you in so many ways, not only financially but also spiritually!
The high quality of living for a modest price available in Panama City was the subject of a news report on CNN a couple of weeks ago. Using the Economist Intelligence Unit's report, Panama was the "shining star". Panama City is listed as the most affordable capital city in the Americas, with a "plethora of top-quality, luxury experiences for cut prices".
In the report, Panama`s "fastest growing economy in Latin America", and free 30-day travel insurance for tourists arriving at
Tocumen
International Airport were the main subjects.
Panama is fast becoming one of the world´s top retirement destinations and also a world class tourist location. With a US-style infrastructure, Panama offers an easy transition particularly for US retirees.
So why is Panama gaining in popularity among retirees, investors, and part-time expatriates? Not only because of increased publicity. Panama has more amenities, lower costs and lower crime rates than many other traditional retirement locations. In fact Panama´s advantages are unrivaled. Apart from tax advantages and privacy advantages, consider the following:
Panama has a stable government and a growing economy
The US dollar is the legal tender. Panama has a stable economy that has been based upon the US dollar since 1904
Residents pay no tax on foreign earned income.
Foreigners can buy and own property in Panama with the same rights and protections as Panamanian citizens.
PENSIONADO PROGRAM (retiree incentive program), the best in the world, is not necessarily age-related and the benefits are considerable. It is considered to be the best retirement program in the world.
English is widely spoken
The US presence in the country for many years has lead to a US style infrastructure with a number of familiar names and businesses.
Panama has a number of US-standard health care facilities and services with many US-trained English-speaking doctors available. Very good hospitals, including a John Hopkins Hospital.
Panama has a reliable communications system with fiber optic telephone lines and much of the country has ADSL internet
Panama is one of the best offshore havens in the world
The cost of living in Panama is lower than the US and much lower than Western Europe.
LAST BUT NOT LEAST, PANAMA IS BEAUTIFUL!
Come to Panama to visit and you can see for yourself! You will love it!
xxx