For me, Switzerland is one of the best places i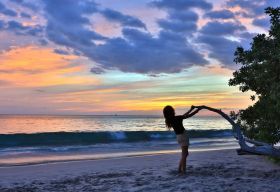 For me, Switzerland is one of the best places in the world to retire. I lived in Switzerland as a retiree for three years. When I was living in Switzerland, the US dollar was very strong compared to the Swiss franc, and although that changed almost 15 years ago, there are still a lot of pluses to retiring in Switzerland. These advantages include absolute top-notch medical care that also comes with top-notch prices, and since I lived in Lake Geneva, I got to have a moderate climate year-round.
Where I live, in Lake Geneva, we had palm trees just a few meters away from our house. Lake Geneva is surrounded by mountains and provided easy access to all of Europe, making it a wonderful base for exploring Europe. Living and retiring in Switzerland does require a certain amount of money. This means retiring on $1,000 a month in Geneva is not a good idea.
I left Switzerland after living there for three years because I found Switzerland to be too peaceful and too quiet for me. Three years in Switzerland was all I could take as an American. But then again, if you have the money and if you're looking for a place to have a safe, secure and pleasant base in the center of Europe, Switzerland is fantastic.
Aside from Switzerland, I have also lived and retired in Costa Rica, and have visited Panama many times. I prefer Costa Rica to Panama because I like the climate and the lifestyle in Costa Rica better. That being said, there are also people who prefer living in Panama over Costa Rica.
Costa Rica for me is the best place in the world to retire because it is easily accessible to the United States, whereas Switzerland is not. For me, the weather in Costa Rica is perfect. The only two places in the United States where I enjoyed living were South Florida and Southern California. I enjoyed these places because I tend to like warmer weather.
The huge advantage of Costa Rica over South Florida is that the lifestyle in Costa Rica is slower. With that, I mean in Costa Rica, life is more laid back and more peaceful. If you're going to retire, you're most likely looking for these things. I found life in Switzerland more peaceful and laid back than I needed. Here in Costa Rica, life is sufficiently a mix of things, so that I can pick whatever lifestyle I want to pick just by with whom I associate-- be it the Tico's (Costa Ricans), the Americans, the Brits, the Canadians, or my next-door neighbors from Switzerland. I can pick and choose, so I can vary with my lifestyle.
For me, Costa Rica's the best place to retire in the world. If you have the money, I'd consider Switzerland and California.
(Beach at The Oaks Tamarindo Condominiums, Costa Rica, pictured.)
xxx