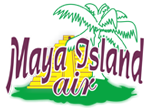 For domestic flights out of the Cayo District, we have Maya Flights airstrip, located a couple of miles from the town of San Ignacio towards the border. There are daily flights. I'm not sure what time they are but there are daily flights to Belize City and to other parts of Belize.
There is another domestic airport in Belmopan City, the capital city of Belize, which is only 30 minutes from San Ignacio. That's for domestic flights as well.
The only international airport is an hour and 30 minutes from San Ignacio, and is located in Belize City.
(Logo for Maya Island Air, which serves eleven destinations in Belize, pictured.)
Posted August 13, 2015