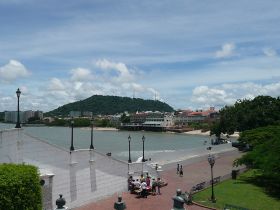 There are a lot of people from all over the world who go to Casco Viejo. Everybody is going to be in the same position as a tourist because they are all not from the country and most of them do not speak Spanish.
Pretty much, the expats in Casco Viejo are nice, friendly, and they are not aggressive. They have their eyes and ears open for new experiences. I have never heard of any expat who has been attacked or treated badly in Casco Viejo.
Casco Viejo is a very bohemian place. It also has a very entrepreneurial vibe to it. So it is like a mix between Silicon Valley and Barcelona. The expats in Casco Viejo are usually younger than the expats in the retirement communities. They are probably between 20 and 50 years old.
(Walkway in Casco Viejo, Panama, pictured.)
Posted July 01, 2015