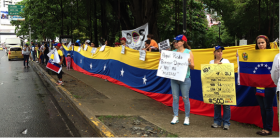 There are expats in Marbella. For example, Venezuelans do not like buying on the beach. There are lots of Venezuelans that moved to Panama and there are lots of them in Marbella because it reminds them of some of the cities in Venezuela.
There are also Europeans, Americans, and Canadians in Marbella. It is not American dominated, even though there are a lot of Americans there.
Majority of the expats in Marbella are not retired. Most of the Americans there would be retired but if you took all of the expats including Venezuelans, Colombians, Chileans, and Europeans, you will find that a lot of them have come here to work a little bit more. They like the city feel and a smaller percentage of expats that are retired.
(Protestors from Venezuela against the President of Venezuela, Nicolás Maduro, attending Juan Carlos Varela's presidential inauguration, Panama City, Panama, pictured.)
Posted May 20, 2016