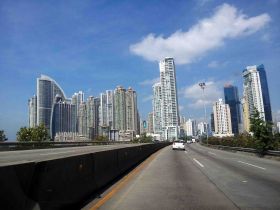 What the expats are like in the San Francisco area of Panama City is an interesting topic because the growth in Panama City has been astronomical in the last couple of years. We have a lot of people from North America but we also have a lot of expats coming from South America, especially Venezuela and Colombia.
What makes it interesting is that everywhere you go, there are expats; maybe not English-speaking expats but there are people not from Panama. Panama has opened its doors and is very inviting to people from other countries. It's very similar to what I have experienced living in Toronto, which is a very multi-cultural city with people from all over the world. You get that in Panama City as well. The expats are from all parts of the Americas, both North and South, and they interact and they get along together very well.
Because there are so many expats there are lots of expat groups and expat events where they can go to and get involved in the community.
(Pictured: On the road to Punta Pacifica, San Francisco, Panama City, Panama.)
Posted August 28, 2015