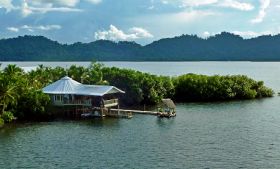 The cost to build a house in Bocas del Toro can vary. In general I tell people that to build a cement home such as Coventec or M2 (very much like stucco) it would cost about $100 per square foot. To build the same home out of wood would cost a little less but the structure would not as durable.
If you plan to build in the outer islands, you will spend about 25% more in order to get your material there, and even if you have a good construction manager, you will want to be in Panama and on site checking in to make sure things are being done the way you want them.
There are currently many well-built homes for sale in Bocas del Toro at very reasonable prices, so I would think twice about building. Building your own home will take a year of your life, with many frustrations and delays. Obviously it can be done and done well since we have so many great homes both in Bocas and in the islands compared to 15 years ago.
Posted April 22, 2014