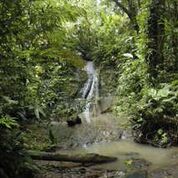 We have the dry season and the wet season in Bocas del Toro. Even when its raining, though, it does not stop anybody from doing anything. Tourists on paddle boards and kayaks still continue their activities when it rains here.
We just don't know when the rainy season and the dry season are anymore because the global climate has changed a little bit so you never really know. Generally, the wet season is from November to March. The best time, weather-wise, to be in Bocas del Toro, is March and April. It's beautiful. It rains in May, June and July. Then you have October and November, which are the most gorgeous months in Bocas del Toro.

Sometimes it rains for a week and a half straight or sometimes even more. We had an extreme version of that recently, when it rained for about two weeks straight. It was on and off and not constant. It was right after a month of beautiful, beautiful weather, so we needed the rain. We live in a rainforest and everybody has to practice water management. You collect the water from your roof and store and filter it. Seven days without rain can seriously empty your tanks, so we always like having some rain.

Living with the rain is just the way of life in Carenero Island, where I live in Bocas del Toro, since it is a rainforest. It may curtail your going a long way's out in the ocean and seeing something, but most of the time, people who come into town have raincoats and still go about their daily business when it rains.
(Waterfall in the rainforest of Bocas del Toro, Panama, pictured.)
Posted April 25, 2015