Retirement here in Bocas del Toro is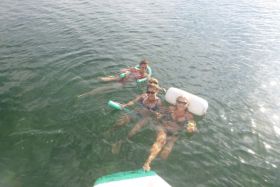 in some ways much like retirement anywhere else. One must adjust to not having a JOB anymore.
Many of us were used to having too much to do and not much free time between our jobs, children, and activities. It was called the Rat Race and it wore us out. Now that we are retired, we sometimes feel anxious if we don't have each minute filled with something to do.
As you relax into the chill lifestyle here though, you realize that you don't need something to do every minute, and it is OK to have nothing to do sometimes. You start making contacts and friends and pretty soon you have a whole set of new things that are enjoyable to do, that fit your particular lifestyle. It might be exploring on your boat, it might organizing a charity event, It might be socializing with your friends, it might be learning Spanish and it might be choosing a retirement career that you always wanted to do but never had time or all of those things and more.
Posted March 03, 2014