El Valle is not exactly Milan or Paris. So, if you are looking for high fashion in this wonderful town, you may be disappointed.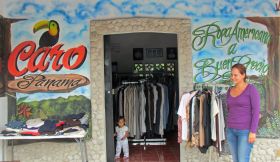 However, there are a couple of good, small shops that have nice clothing, including "Caro Panama," which specializes in used American clothes at a very reasonable price.
For a greater variety of new clothing, you will have to go either to Coronado (between 20 - 25 miles away) or Panama City (about two hours by car).
Posted January 06, 2014