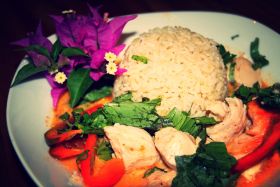 The food that you can buy in the markets in El Valle de Anton is fantastic. You can go to the main market where there are a few vendors who sell fruits and vegetables. You can buy everything there that you could possibly need. Everything that they sell in the market is locally-grown and really great quality.
They sell hot sauces in the markets, and molasses that they make from the cane sugar. You can also buy beans that they dry. There are black beans, white beans, and lentils (which are great), and various herbs. You can also buy plants for your garden if you want to grow your own herbs or if you want to buy various flowers, orchids, and other plants. You can buy them all in that local market.
In the areas around El Valle, there are several organic farms that I love to go to. One that I really love has arugula, various types of lettuce, Swiss chard, basil, and sometimes they have plantains and bananas. So there are quite a few options and the quality of produce that you are going to find is better than anywhere that you'll ever shop in Canada. The pineapple here tastes like candy. The mangoes and papaya are great. We were just on a trip to Mexico, and the fruit over there didn't even come close to the quality of fruit that you can find in Panama. All these fruits and vegetables are locally grown here.
The prices in the markets are so affordable. For example, I'll go to the organic farm and fill a large shopping bag with organic lettuce, arugula, carrots, etc., until it's full, and pay only $5 to $8. The produce is all organic, green, and lovely. If I were to shop for the same produce and the same quantity in Canada, it would cost me around $40 to $50.
For things other than produce, you can go to a supermarket called El Rey, which has everything else that you would need such as chicken, meat, dairy, pasta, etc. It's just like any normal grocery store in North America. If you are in El Valle, you can get everything that you need from the markets and the grocery store.
(Meal made from local sources at Dlaaya, Las Lajas, near El Valle, Panama, pictured.)
Posted March 29, 2016