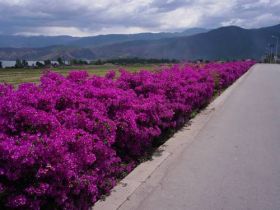 El Valle de Antón

offers a variety of

small

stores, especially for weekend visitors. It is a very small town, but full of flowers and beautiful mountains and with l

ots of things to do and enjoy.
As a tourism site, the stores are more oriented to sell souvenirs, crafts and hammocks.

You can find beautiful "

molas

" ( handmade by the

Indians

in the San

Blas

islands) at extraordinary prices.
There are some grocery stores that also sell varieties of boots, shoes or very basic casual clothes.
But, surprisingly, sometimes you find in El Valle something that you have been looking for a long time, which is what happened to me. I found a pair of boots (I love gardening) if my size, that I couldn´t find in the city, in a little Chinese store.

And when we got married (in ancient times), and we spent the first week of our honeymoon in El Valle (by the way, this place is just the place for honeymooners), the first thing my husband bought me was a yellow pair of pants, that I needed.
So, you never know what you will find.
But if you do not find what you are looking for in El Valle, not to worry. There are towns only 30 minutes away, like Coronado, or little further in Arraijan (Westland Mall) with plenty of modern malls and all kinds of facilities where you can find all kinds of clothes at ridiculously low prices.
Posted February 20, 2015