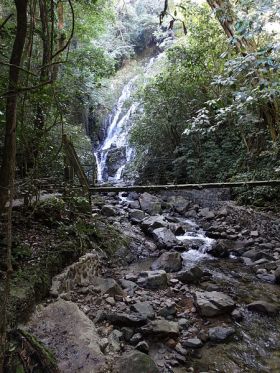 Adventure travel and activities in El Valle de Anton, Panama include lots of trails for you to go on, if you're adventurous. I don't recommend going on the trails during months that end in "-er" because that's when the rains are the heaviest. You can actually get lost and hurt easily.
A few years back, we had a Navy admiral who got lost in one of the mountains here. The Navy came here and spent three days looking for him. They eventually found him trapped between a tree and a rock. He was warned not to go up the mountain, but he went ahead and did it anyway. He learned the hard way.
There are great trails, and the peaks up here are fantastic, especially this time of the year (January) because, at the highest elevations, you can pretty much see both the Pacific and Atlantic oceans. As for adventure, I would recommend the zipline thing at a local hotel.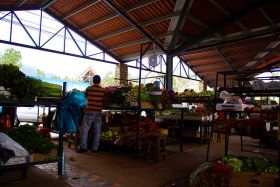 Another thing you can do in El Valle is go to the famous outdoor market (right photo). You can get great stuff there. The best time to go is between Friday and Sunday because that's when they have the new shipment of fruits and vegetables. Not only that, many of the gardeners that grow exotic plants and flowers come and sell their plants and flowers. The Indians come in on those days as well.
If you're a prospector, you can try gold panning. There's gold in the rivers in El Valle. El Valle is in the crater of an extinct volcano, but extinct dead volcanoes do have gold and other valuables coming out of them. The gold here is not that high grade, good gold. It's a copper / gold mix. But it's fun once you find it.
There's a family that rents out horses for US $10 to $12 an hour. Most of the kids love to do that. They have a guide to take them on the horses on some trails and bring them back. If you're more adventurous, you can take another trail for six hours.
Posted February 21, 2015