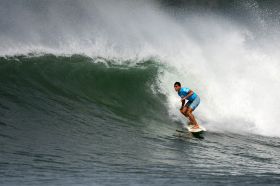 El Valle de Anton is in an extinct volcano up in the mountains directly up the hill from the Pacific Riviera on the Pacific Ocean coast, which runs from Gorgona to Rio Hato (a stretch of about 35 minutes by car). So, if you wanted to go surfing from El Valle, you would have to drive down the hill to the ocean, where there are quite a few beaches within an hour drive from El Valle that are used by surfers.
The closest beach that you can drive straight down to that has a little bit of surfing would probably be Palmar, which has a surfing school. Palmar is about 40-45 minutes away from El Valle by car. It's closer than Coronado (which is about an hour away) and sits just outside of San Carlos.
Just two or three miles away from Palmar, you have Rio Mar, and then Rio Teta, and many other surfing spots. There are surfing spots just about anywhere along the Pacific Riviera.
I can't talk about the quality of the surf as I am not a surfer myself but there is certainly a lot of good surfing within an hour from El Valle.
In addition, a little further away (about 3 hours by car from El Valle), there are very popular surfing places like Catalina, which is on the western side of the Azuero Peninsula, and where they have international competitions.
Posted August 31, 2014