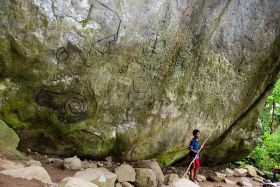 Hiking in El Valle de Anton is superb. There is a nice hiking trail starting from the Piedra Pintada or "the painted rocks," which are petroglyphs, going up to the India Dormida. India Dormida or "the Sleeping Indian" is the name of a mountain in El Valle.
You can hike up to India Dormida's forehead and take in the views. Along her body, you will also find a set of trails. These trails are actually routes that Indians walk to get home. Therefore, they are not so much of a hiking trail; rather, they are trails used by people who live in the mountains, but we use them as hiking trails. You can walk along India Dormida's body, walk in a loop instead of hiking up to her forehead, and back down. I have done that trail 95 times. It is my favorite hiking trail in Panama. It is my favorite because it is not the standard hiking trail where you go up and down the same route. Instead, it is a loop and it is more fun when you do not have to backtrack. In addition, you do not need to be an extreme hiker to take on this trail as it is only about an 800-foot elevation change and it is less than six miles. Therefore, as far as the accessibility for most people who want to enjoy the outdoors via hiking, this is a very good trail.
The trail in India Dormida is nicer compared to the one in Soberania National Park (about 2 hours away from Panama City by car). In Soberania, you are going in one way and back out the same way, unless you do a very difficult loop, which I only take extreme hikers on because it is hot, humid, and you have to cross the jungle and the river. Whereas in India Dormida, you will be at 3,000 feet so it actually takes the edge off the heat; you get a nice breeze because you are above the treeline, and you will have views all the way out to the Pacific Ocean, so it is stunningly beautiful. The level of difficulty of the hike makes it one of the best hikes in the country of Panama.
Posted October 17, 2014