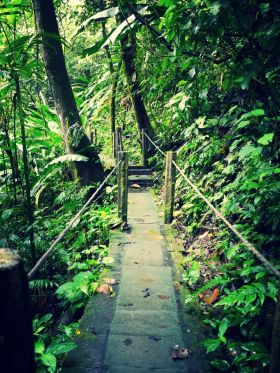 There are several things that you can do that are great in El Valle de Anton.
There are a few waterfalls that you can visit. There is a trail in Chorro De Las Mozas, which is my favorite waterfall to go to. You can jump into the waterfall, which is really nice. It takes about 15 minutes to walk in and it is very pretty.
You can also go to the Sleeping Indian Princess, which is a nice hike up the valley. Then you will be overlooking El Valle where you can see the town. Those two are my personal favorite things to do.
There are a couple of rivers that you can hang out on, have picnics and jump in for a swim and there are also some restaurants and coffee shops in El Valle that are nice to visit, have a coffee, and read a book. There is also a lot of good hiking in the local area.
(Pictured: Mountain hike near El Valle, Panama.)
Posted April 07, 2016