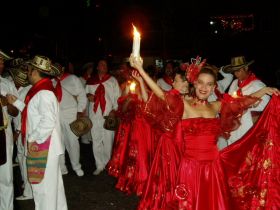 Panama, like the US, has 12 holidays per year but their holidays run from the 3
rd
of November through the 1
st
of May. In November, there are four different Independence Days that are celebrated on the 3
rd
, 5
th
, 10
th
, and 28
th
of the month. Mother's Day is on the 8
th
of December. Christmas and New Year's Eve are also holidays here. Martyr's day is on the 9
th
of January, which is the same as Martin Luther King Day.
Patron Saint's Day is also a holiday in El Valle de Anton. Typically, all of Latin America has a Patron Saint's Day and many individuals celebrate a saint's day of their own which is probably the same as their birthday. There are different Patron Saint's Days for different regions, and El Valle has its own.
Another holiday in El Valle is the Semana Del Campesino ("Week of the Working Folks"). There is a parade that has to do with that where the ladies put on their Polleras (traditional women's dress in Panama) and the guys put on their Montuno outfits (this is a polo shirt with long sleeves and is worn during native dances). They'll have some horse-drawn carts. This holiday is in celebration of the country-folk and the rural lifestyle.
Posted September 05, 2014