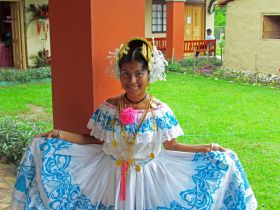 The standard of living here in El Valle de Anton varies whether you are a local who is making US $350 per month, a rich Panamanian, or an expat. It varies with those three classes completely.
The local people have houses that have been handed down from generation to generation. They were never for sale. One thing that is wonderful about the Latin culture is that as you get older, you will still live with your children. You are not put in a home. There are no nursing homes around here so there will be quite a few people in one house. They make about $350 to $400 per month and yet nobody seems to ever think as if they are poor and unhappy. They are laughing all the time. They smile all the time. They are very nice. I sort of envy their mentality. In fact, I know some wealthy Panamanians who come here to El Valle on weekends and I can see that they are the ones who are stressed out in dealing with problems in their homes amongst other things, while the local people who live here and are making a small amount of money do not look stressed out at all. The local, financially poorer people in El Valle may be a lot happier.
Some very wealthy expats live in beautiful homes here in El Valle. They come here for around 8 months per year and they go back to the States for the remaining 4 months to be with their families. Other expats come here on their social security and on a very tight budget, which is one reason why they chose to move over to Panama, although, the cost of living in El Valle is considerably higher compared to other places that are 40 miles away from here.
You can rent a full house in El Valle for maybe $250 per month in Panamanian community. The expat community varies a lot. There are some Europeans who live here and they usually are into some type of business.
Posted October 01, 2014