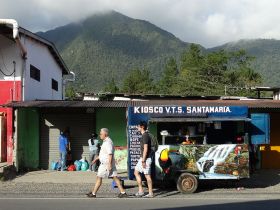 El Valle de Anton is pretty safe. It is a Third World country and nothing's ever completely safe, but compared to the rest of the world, I feel safe here. In the United States, there is more police presence. In Panama, it's a little bit different. You and your neighbors look out for one another, which is something that does not happen in the States, as much as it does here.
I was mugged once in the United States and thrice in Panama City. I have never been mugged in El Valle. Like I said, my neighbors and I are very well acquainted with one another and we look out for one another. In other areas, people do not know and understand that you have to rely on your neighbors. I've heard a lot from other folks who are expats who come down to Panama and aren't used to this sort of arrangement. They find themselves alone and stuck "out in the wind" and there is a greater chance of a crime being committed against them because they don't have a good system around them. To get to know your neighbors, go up and introduce yourself. You'll find that people are very receptive toward people who introduce themselves and want to know their neighbors.
I would tell anybody moving to Panama to get a dog, which is the best security system you can have in that world. Most thieves leave when they hear a dog. If the thief hears a dog and sticks around, there is something wrong with him mentally.
Posted February 19, 2015