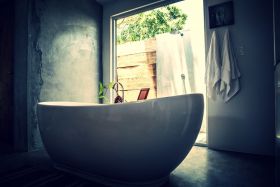 The wages across Panama do not vary that much. If you are getting a housekeeper, you can choose to pay on a daily basis, for which they typically charge anywhere from US $20 to $25 per day. If the housekeeper comes to your house to work once a week or once every two weeks, then they would work about 4 to 5 hours, depending on the size of your house.
You can also hire a housekeeper to work for you full time so that they work 8 hours a day, 5 or 6 days a week. A full time housekeeper would cost you around $400 a month, which is quite a bit less per day than hiring them on a daily basis, but you have to pay bonuses throughout the year. A decimo is a bonus that you have to pay quarterly if you have a full time employee, which is basically about $130 every 3 months.
Very few people have a full time housekeeper/caretaker in their home so the usual rate that people pay here is $20 to $25 a day for someone to come over, clean the house, and get the job done.
(Freestanding tub with outdoor view at Dlaaya retreat, Las Lajas, Panama, pictured.)
Posted March 30, 2016